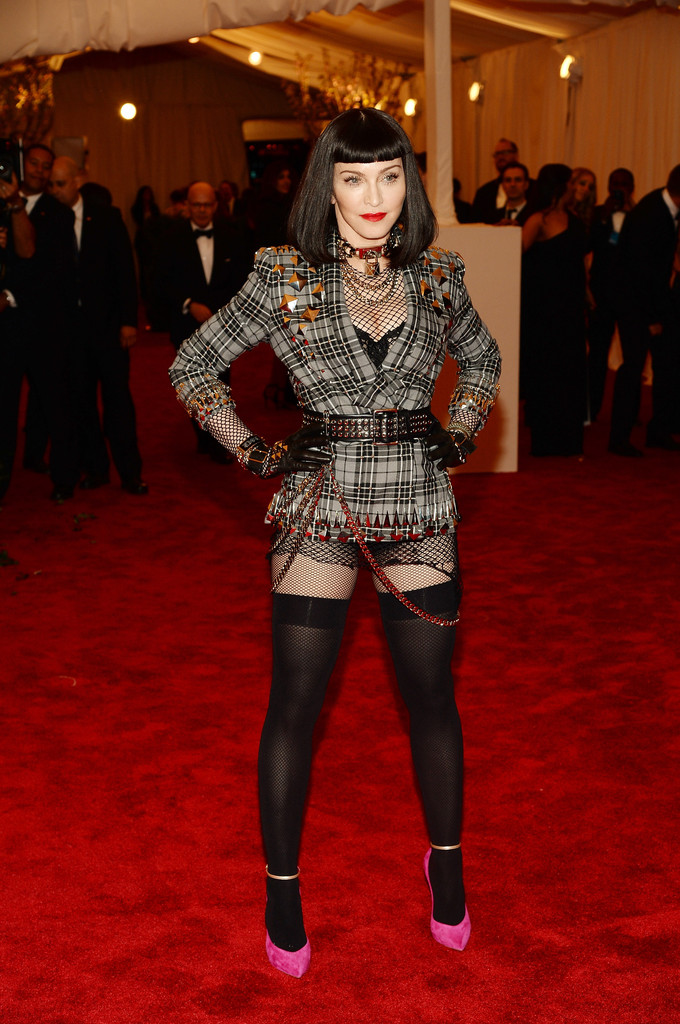 Often called the fashion equivalent to the legendary Vanity Fair Oscar's Party, the Met Gala at the Metropolitan Museum of Art brings out the best of the world of fashion, celebrity, society, sports, and more. Merging this with the philanthropic mission of the Costume Institute Benefit, and you have one of the world's greatest parties. It's also one of our favorite events to critique.
Saying who's best-dressed is often impossible, but it works out that there are always those who seize upon the exhibition's theme; and then they apply it to a closely scrutinized look. With a  theme of Punk, it made you wonder who would actually embrace the concept. Without further ado, here's my take on who exhibited the best Punk at the Met:
Madonna in Givenchy
When is Madonna not a punk? Last night she was right on point, looking fierce and, frankly, fabulous. Madge rocked a Givenchy Haute Couture tartan jacket paired with ripped fishnets, chains, a studded belt, a choker, and pink suede pumps. With short, black hair the outfit was completed. Granted, she's at an age where she should be wearing pants, but she killed it.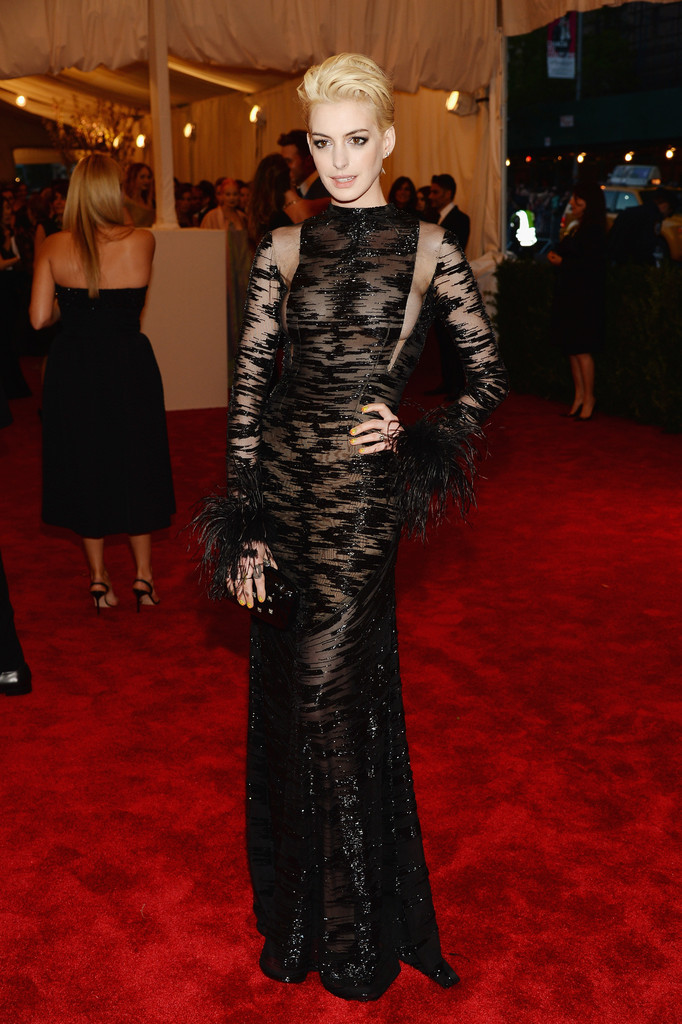 Anne Hathaway in Valentino
Last night, I was simply wowed by Anne Hathaway's sexy and chic black sheer Valentino gown. Her look was chic and mixed glamour with punk. What actually pulled the look together? Her newly bleach blonde cropped mane. Simply beautiful is the best way to describe this.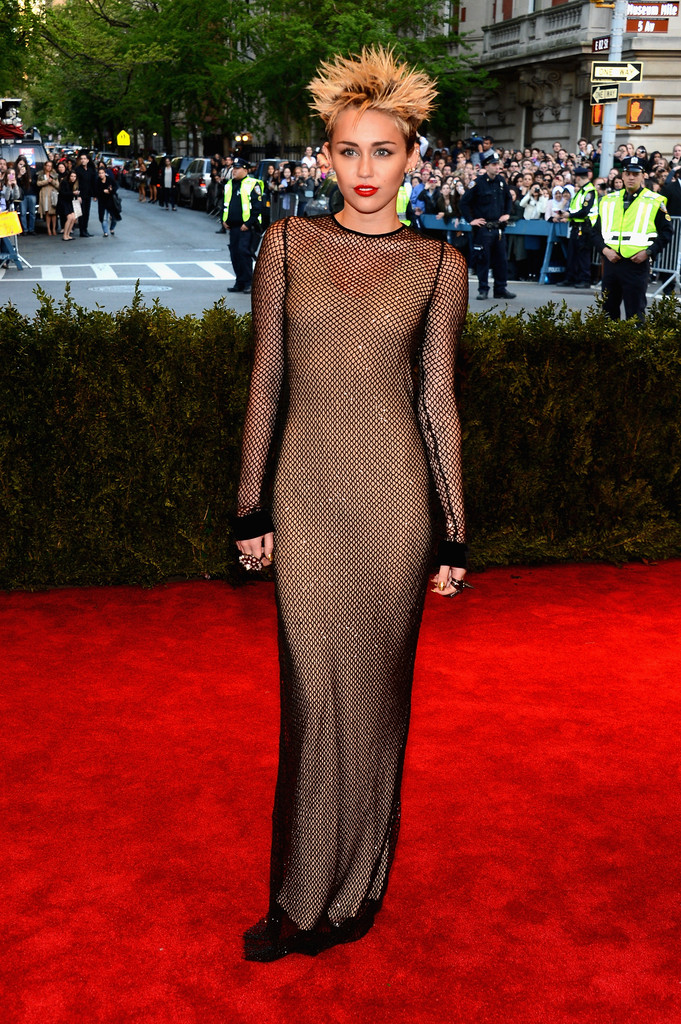 Miley Cyrus in Marc Jacobs
Miley's look was focused on a mesh gown with long sleeves designed by the man who turned fashion on its head approximately twenty years ago. She also proceeded to spike her hair, becoming the ultimate punk in the process. A fabulous and beautiful sight.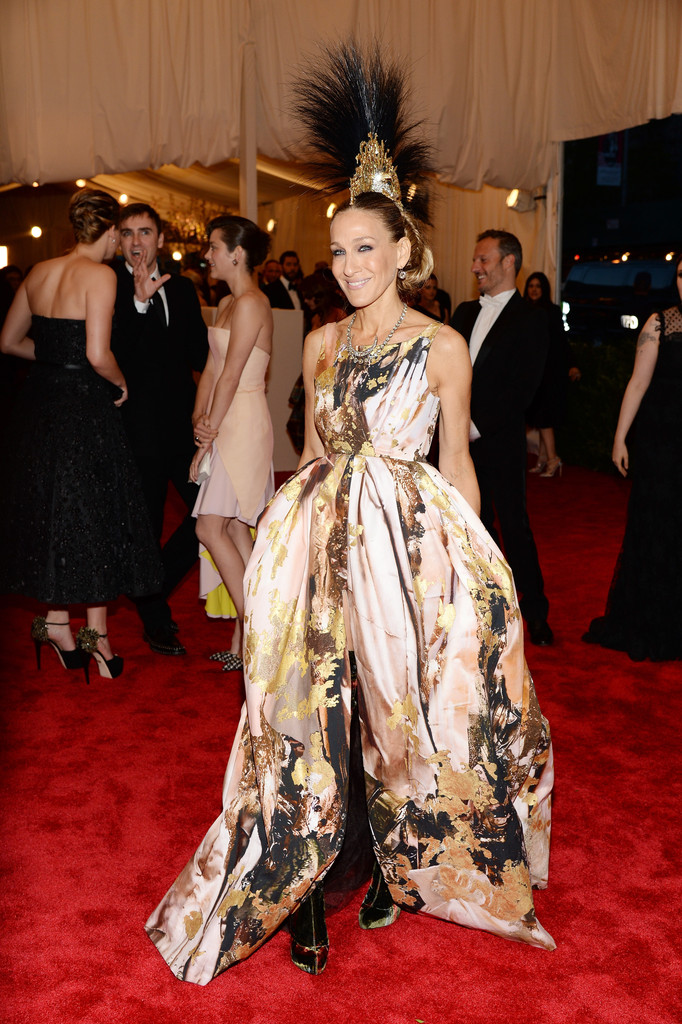 Sarah Jessica Parker in Giles Deacon
Who knew that Carrie Bradshaw could figure out a way to rock the theme this year? Rocking a beautiful patterned voluminous creation by Brit Giles Deacon, Parker managed to give the theme an interesting take. Completing her outfit was a Philip Treacy mohawk headpiece, and knee-high tartan boots.
The Fanning sisters are the darlings of both Hollywood and fashion these days. Both Dakota and Elle went with their trusted friends, Kate and Laura Mulleavy of Rodarte. Elle brought it in tie-dye and cream sleeveless creation from the phenomenal Fall/Winter 2013 collection, giving off quite the superhero vibe. Matching her makeup to the dress, Elle rocked it.