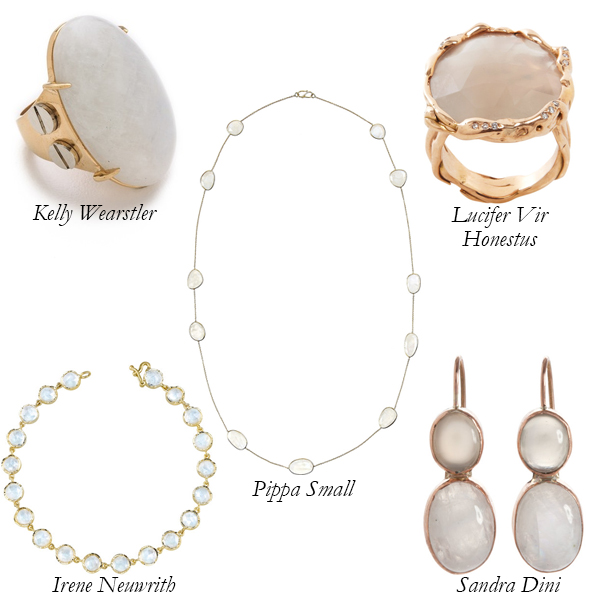 What better to wear under the warm summer rays than cool, fresh moonstone? The gem has long been considered mystical, all the way back to the time of the Ancient Romans. They believed it was created using solidified rays from – you guessed it – the moon. They associated the stone with their gods, as do the Hindus. The best pieces are found on Indian and Sri Lankan beaches, so as you walk along sandy shores this summer wearing your jewels, their powers will be even more potent.
Kelly Wearstler Oval Moonstone Cocktail Ring: Silver screw heads add serious contrast to this otherwise sweet and feminine cocktail ring. On Shopbop for $295.
Lucifer Vir Honestus Ice Moonstone & Diamond Ring: A lake of pearly pink glimmers with the help of surrounding pave diamonds. At Barneys New York for $6,775.
Pippa Small 18-Karat Gold Moonstone Necklace: Celebrating an important birthday soon? Moonstone is the alternate birthstone for June. I'm guessing that doubles its good luck charms! On NET-A-PORTER for $6,480.
Irene Neuwirth Rose Cut Rainbow Moonstone Bracelet: The perfectly cut iridescent stones shimmer like white hot stars, an effect only magnified more by the roughed up gold settings. At Barneys New York for $2,510.
Sandra Dini Moonstone Double Drop Earrings: The sheen on these cabochon stones makes them look like melting ice – not bad for hot summer days. At Barneys New York for $840.