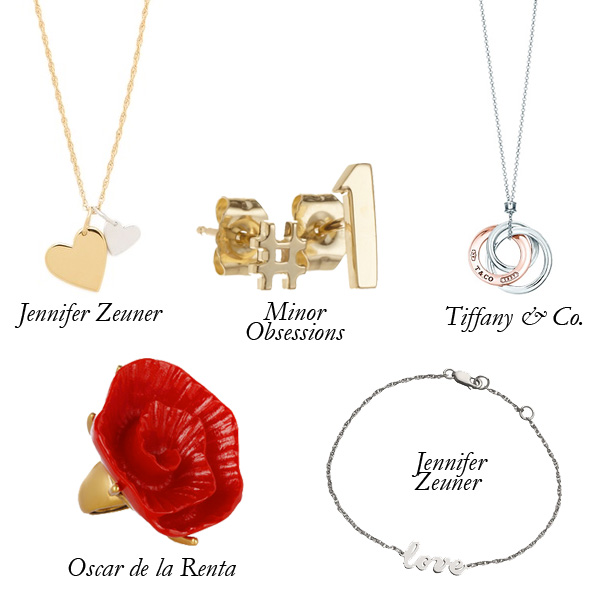 In addition to being Jewel Snobs, Tina and I are both Mom Snobs, and since Mother's Day is the most important gift giving time of the year, we both wanted to offer up some ideas. No matter what extravagant gift she tells you to get her, all mom really wants is to know she is appreciated for her daily selfless acts of love and servitude. Yeah, good luck finding a gift that will fully convey that to her satisfaction. That's why sentimentality is key when getting her jewelry. These are gifts I know I would shed a tear of joy over. And the reality is, your mom has no interest in breaking your bank, these are gifts she will cherish forever and are all within budget.
Tiffany and Co. 1837 Interlocking Circles Pendant: Who wouldn't want a gift from Tiffany and Co? The circle (which has no beginning and no end) symbolizes never-ending love, while the intertwining rings can represent members of your family. At Tiffany and Co. for $300.
Jennifer Zeuner Mattea Double Heart Necklace: For a new mother, there is nothing more endearing than a baby heart next to a mommy heart. On Shopbop for $165.
Minor Obsessions Gold #1 Stud Earrings: We all know who's the boss. Keep it straight and to the point with these cute studs (although, I'm pretty sure she can already tell where she stands in your life!). At Barneys New York for $200.
Oscar de la Renta Gold-Plated Rose Ring: A rose for a rose! Why give a real flower that will wither and die? This is eternal (and she'll love how it'll pop against her summer wardrobe). On NET-A-PORTER for $185.
Jennifer Zeuner Addison Cursive Love Bracelet: Simple and sweet! All she'll have to do is look down at her wrist to be reminded 365 days/year of how much you love her. At Neiman Marcus for $140.