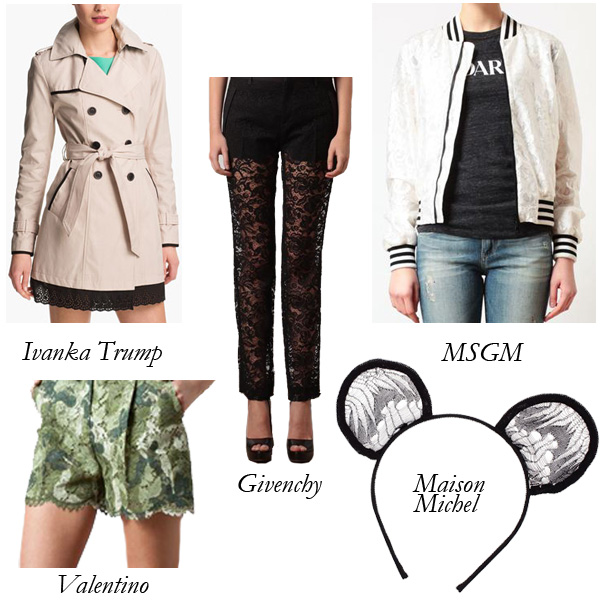 Lace is one of those odd things that you can find on both your grandmother's antique end table and in your sexiest lingerie drawers, but it looks like the fabric has gotten even more versatile. From bright patterns to unexpected accents to animal ears (likely the most surprising incarnation of all), lace is really breaking out of its intricately designed shell. Which of these pieces cause the most shock and awe?
Valentino Camouflage Patterned Lace Shorts: Mixing camo and lace is pretty brilliant. Just don't expect to blend in with the crowd when you're wearing these! On Browns for $1,523.
Givenchy Lace Trousers: With lacy legs, these pants manage to be even more alluring than stem-baring shorts. I have a similar pair from Reiss and absolutely love them. On Browns for $1,867.
Mason Michel Heidi Lace Bear-Ear Headband: These are not meant for Halloween, so if you're going to try the trend, just throw everything you know about being appropriate out the window! On Browns for $385.
MSGM Coated Lace Bomber Jacket: Who knew masculine bomber jackets could be so girly? Pull on some shorts and a cap, and it'll be like you're one of the guys (well, almost). On Browns for $609.
Ivanka Trump Eyelet Trim Trench Coat: Throw this frilly trench over a cute dress or be naughty and wear it solo – no one will be able to tell your little secret! At Nordstrom for $148.