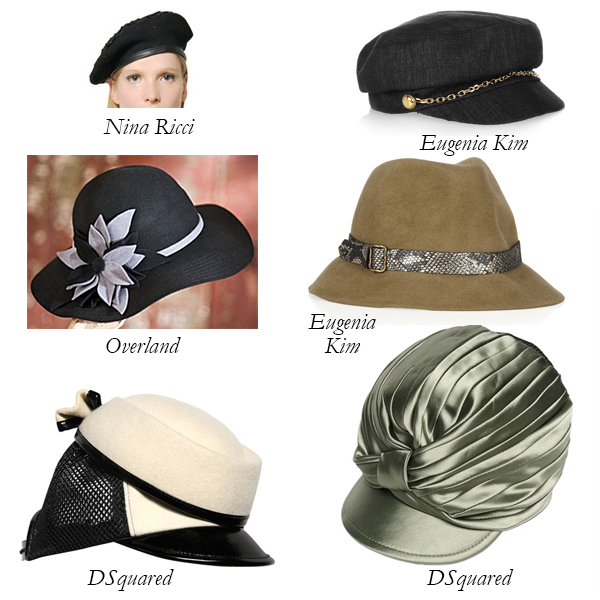 One of my favorite things about the beginning of each new season is the hat shopping! Summer has some fun options, but fall is when the hat department really starts buzzing. From lacy berets to hybrid hats to silk newsboy caps, there's no shortage of unique accessories. Here are some choices that'll have you holding your head high:
Nina Ricci Lace on Wool Felt Hat: Leather and lace make their way onto a seriously sexy beret. On Luisa via Roma for $713.
Eugenia Kim Elyse Woven Silk Hat: This may be military-inspired, but it seems more '70s porn star to me. Embrace that and it'll work! On NET-A-PORTER for $187.
DSquared Double Wool and Leather Baseball Cap: This is one of the most distinctive hats out there – it's like two in one. While the cap is vintage-inspired, it'll look best incorporated into a modern look. Pre-order on Luisa via Roma for $450.
DSquared Silk Satin Baseball Hat: Did I just say that hat was one of the most distinctive? Looks like it has a partner in crime! This one is part baseball cap, part turban (without any of the complicated wrapping). Pre-order on Luisa via Roma for $525.
Overland Women's Wool Felt Floppy Poinsetta Hat: This is a Frugal Snob option that hides it frugality well under floral flair. At Overland for $49 (from $79).
Eugenia Kim Kurt Rabbit-Felt Fedora: Here's another frugal pick to jump on. Snake-effect trim gives the neutral staple just enough kick to keep you wanting it all winter long. On The Outnet for $85.50 (from $285).