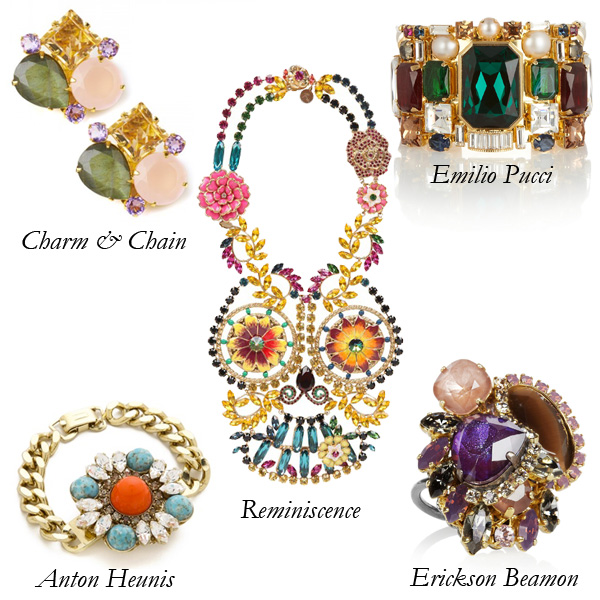 One crystal is nice, but ten is better! Go big or go home, right? These kaleidoscopes of color are summer fun that will liven up any old outfit. They look like bright pieces of candy, and are just as hard to resist. I say give in to your sweet tooth. The opulence of dripping in baubles will command attention and adoration (not to mention envy!) wherever you go.
Bounkit Rose Quartz & Citrine Button Earrings: A mix of shapes and colors comes together on these gold-plated earrings (fun fact: rose quartz is said to bring you luck in love!). On Charm & Chain for $365.
Emilio Pucci Gold-Plated Crystal & Faux Pearl Cuff: Pucci's love of color and geometric design shines bright on this regal cuff. Wear it day to night. On NET-A-PORTER for $1,070.
Erickson Beamon Swarovski Crystal Cluster Ring: Erickson Beamon never does minimal. Mega jewels at a mega discount? Yes, please! On NET-A-PORTER for $195 (from $390).
Anton Heunis Floral Cluster Bracelet: Tina's been loving florals, and I'm equally enamored. The mix of turquoise and orange sherbet has bloomed just in time for summer. On Shopbop for $215.
Reminiscence Frida Necklace: This is seriously major – the necklace has every color in the rainbow and more! Wear it over a simple dress to ensure it's the star of the show (as if it could be anything else!). On Luisa via Roma for $4,990.