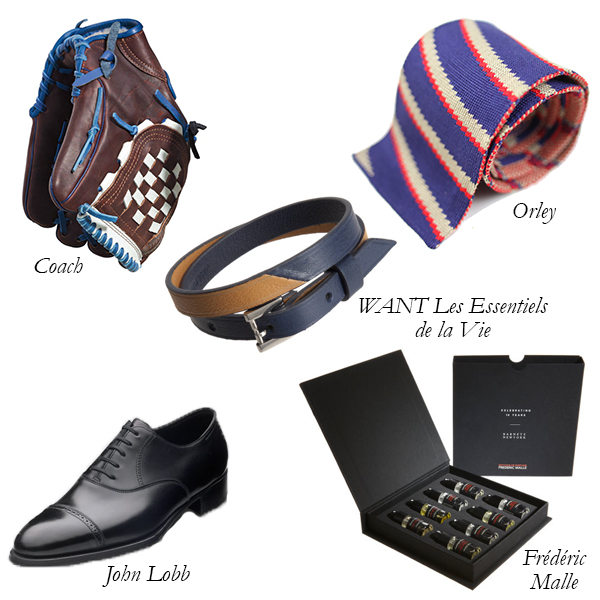 When I was a kid, I used to give my dad silly little things for the day of the year he was actually celebrated for being my father. As I grew older, I began to realize that simple trinkets really wouldn't cut it. This year, I'm gearing up (and thinking about what really would go over well!) with a few ideas I've had. From my screen to yours, here are my top five gifts to celebrate the father in your life:
1. Coach Heritage Baseball Leather Colorblocked Glove:
Nothing really touches upon classic American nostalgia like a father tossing a baseball with his son at twilight on a grassy front yard. It really is a powerful message, and a beautiful baseball glove in a mix of stunning colors will definitely have a lasting effect. Crafted by Valkyrie as a collaboration between Insignia Athletics and Coach, it's definitely a winning combination.
At Coach for $348
2. Orley Collegiate Tie:
Sometimes, a quality-laden, yet simple, gift is what will hit the spot for dad. This beautiful Italian silk jacquard tie will complete any suit, and is completely reusable for formal July 4th festivities. Suit up or be square!
On Orley for $195
3. John Lobb Phillip II Lace Up:
This classic English cobbler produces shoes that last basically for forever and are totally lust-worthy…not to mention they'll help dad totally own the boardroom. Crafted by hand, and available in both brown and black, these shoes were made for walking.
At Bergdorf Goodman for $1,585.
4. WANT Les Essentiels de la Vie Vantaa Wrap Bracelet:
Started by the brilliant Peart brothers, WANT has grown to be the ultimate affordable accessories collection with beautiful bags. Their other accessories are definitely enticing, such as the Vantaa Wrap Bracelet. Perfect for the stylish dad, I'd frankly want one!
At Barneys New York for $125
5. Frédéric Malle Coffret Collection for Men:
Frédéric's team of perfumers have created some of the most beautiful and attractive scents on the global fragrance for women and men. They even managed to collaborate with Dries van Noten on a custom scent. Giving the gift of a scent to a man can be risky, considering the amount and variety of scents on the market. This set is the perfect answer to that conundrum with a beautiful assortment of everything from the refreshing to the spicy to the (very) sexy musky.
At Barneys New York for $180