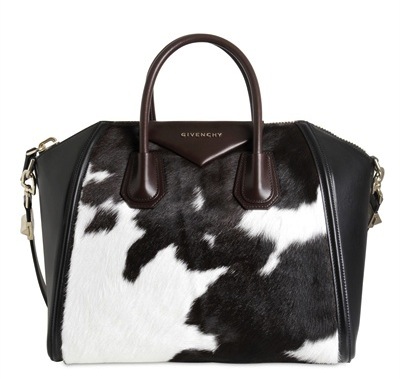 Let me just say I want this like you do not believe…but I'm having issues with the price. An age-old dilemma. Givenchy tacks on $1,000 to the Antigona's price tag for the incorporation of pony skin. But I'm in love with the cow print. It feels younger than leopard; even zebra has an older vibe in comparison to fresh, unexpected cow. The palette is strong, almost reserved, but the attitude is anything but. It's cute. Think Toy Story – I'll be just like Jessie!
Clearly, the desire for this bag is more emotional than anything else. I'll be honest: a new Antigona won't really serve any necessary function or fill any gaps in my bag collection. But if I took that argument too seriously, I would need to stop shopping altogether…What?! That's crazy talk. I guess I should just get it then?
On Luisa via Roma for $3,125.
Pair with: I'm also currently craving Jimmy Choo's Vendetta sandals ($1,450), a mix of sweet suede straps and spicy Swarovski crystals.