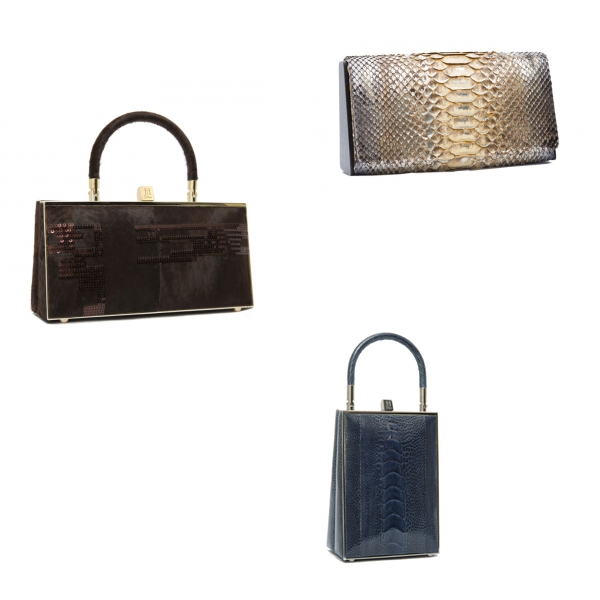 Meet Jill Haber, the best new brand to launch in a very long time. Jet-setting Jill is inspired by the vintage bags she has been collecting her entire life (as well as her global travels), but her designs are undeniably original. For a new line, which kicks off with a Fall '13 collection, she has been able to perfect quality; the workmanship is phenomenal.
Frames are very hard to do right, but Jil has nailed it. These are sturdy metal frames that she has custom-made in Italy, while the bags themselves are constructed right in New York City! The Niles blends sequins and kid-skin with a gorgeously strong silhouette, while the Ethan wrap clutch is a rigid shape with wood gussets, her signature. This makes for such amazing detailing, bringing depth and richness to a simple shape. And its price is crazy-good: real python made in NYC for $895! I borrowed the Sebastian box clutch when I hosted the Restorsea event at Bergdorf Goodman to rave reviews. It definitely received its fair share of attention that night.
I promise you: the quality is uncompromised. I met Jill Haber, and she is a perfectionist. I can tell by her close attention to minute detail that she has a true type-A personality, and she applies her obsessive energy to every stitch and seam. She is also amazingly sweet and a lifelong Bag Snob! We had such a blast talking bags and shoes (apparently her closet is something I need to encounter firsthand).
They just launched their e-commerce site this week, but the line is already being sold at top-notch boutiques all over the world. The Niles, $1,795; Ethan, $895; and Sebastian, $1,895, are all available at Jill Haber.