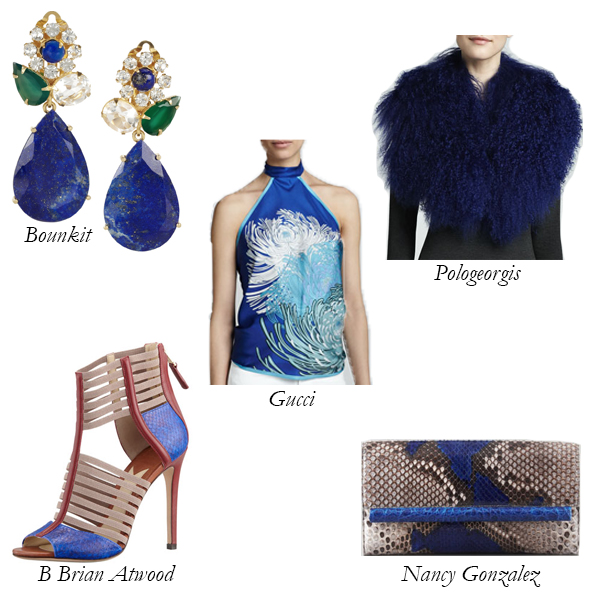 As much as I love cobalt, it's one of those colors that you only need a little of to make a statement. Anything more than that would cause serious shock and awe (and not the good kind). You pack a bigger punch with a jolt of electric color rather than a full-on current, so choose just one piece to layer with – it'll give even the dreariest of fall neutrals just the kick they need to start the season right.
B Brian Atwood Langden Stretch Cage Sandal: You won't feel caged in with these stretchy straps. The comfort will surprise you even more than the vibrant color does. At Bergdorf Goodman for $425.
Nancy Gonzalez Python Crocodile-Bar Clutch Bag: You don't even need the accessory to be fully cobalt. A blue streak will more than do the job (especially in croc and python!). At Bergdorf Goodman for $1,020.
Gucci Pirata Baga Runway Silk Scarf Top: Forget black dahlias – beat the heat with blue dahlias on one of Gucci's itty-bitty scarf tops. At Bergdorf Goodman for $465.
Bounkit Gold-Plated Onyx, Quartz and Lapis Lazuli Clip Earrings: While Cleopatra used powdered lapis lazuli as eye shadow, I prefer it in its full (and perfectly faceted) form. Exclusively on NET-A-PORTER for $430.
Pologeorgis Mongolian Lamb Collar: A full cobalt fur coat? Well, that would be a bit much, but a big collar is just right. Wear it with a dress when you want to show off some skin while still staying cozy. Pre-order at Neiman Marcus for $325.