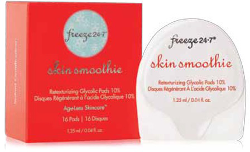 Freeze 24-7 IceCream Double Scoop Anti-Aging Moisturizer
($105) is one of my fave products, so I was excited when the brand announced that they were launching something new, SkinSmoothie Retexturizing Glycolic Pads 10% ($75). I've been all for glycolic exfoliation ever since meeting with famed dermatologist Dr. Schultz who swore that after daily sunscreen application, exfoliating with glycolic acid is the key to forever youthful skin. These pads make it super easy. There are 16 in a box and they're more like finger mitts than pads so not only are they great for travel, they're easy to use and mess free.
Gentle enough for daily use, they're meant to be used twice a week – all you do is take the seal off of one of the pads and swipe it on to your clean, dry face and neck in an upward circular motion. You then wait about two minutes before applying your moisturizer. Because my skin is still relatively new to glycolic in high, regular doses (10% glycolic acid is the highest allowed for at-home cosmetic products), I was a bit worried about having a bad reaction and tested the pads on just a side of my face. Luckily I had no sensitivity and am now using these all over my face twice a week before going to bed.
Glycolic is really a power house ingredient (read more about it here), and these are an easy way to work them into your routine.