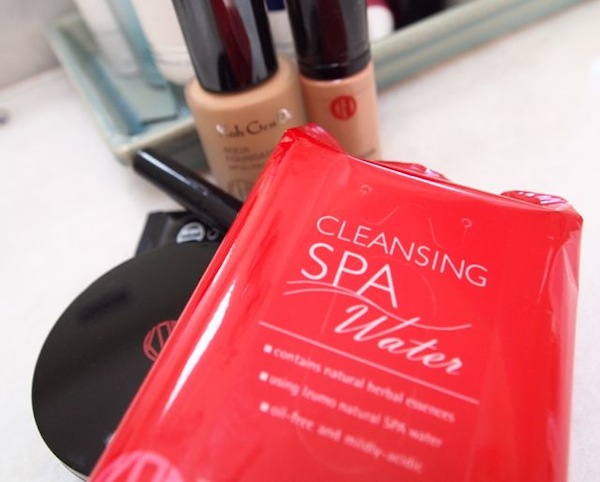 How could something so gentle work this hard? The bottle looks just like a regular bottle of H2O, but in actuality, it holds the best makeup remover ever. Instead of harsh ingredients and chemicals, Koh Gen Do's cleansing spa water removes dirt and waterproof makeup with Izumo thermal water from Yumura Hot Springs in Japan. I'm all about hot springs. My parents loved them (they took me to Osaka when I was a tot). I've been visiting all my life and truly believe in their healing powers. You immediately see your skin, hair, and spirits uplifted. If you haven't tested the waters, then start out with Koh Gen Do's at-home version. I prefer their cleansing cloths for convenience, though. They're going to be my best friends during Fashion Week. At the end of each day, I just want to go back to my hotel and fall into bed, but I think I'll be able to muster the energy for something as simple as this.
I'll also carry them around to refresh my face and neck during the day. If you remove everything but your eye makeup, then you can quickly redo your look without actually having to redo everything. 12+ hours with foundation on? No, thank you! I'll just pull out one of these cloths and apply a fresh coat for dinner. Then at the end of the week I can take them on the plane. I don't like wearing makeup in-flight – it feels like going to sleep without washing up. I'm fitting in one final show before I book it to the airport, so as soon as I sit down on the plane, I'm taking everything off. I can do it all with one cloth – one side for the face and the other for the eyes. Even the most stubborn mascara glides off easily if you hold one of these over your eyes for a few seconds. Best of all, each set comes with three portable packs (10 cloths per pack), guaranteeing them to stay fresh. Keep one in your bag, one at home – wherever you think you might need a pick-me-up! Cleansing spa water
and cleansing water cloths
available for $39 each at Barneys New York.