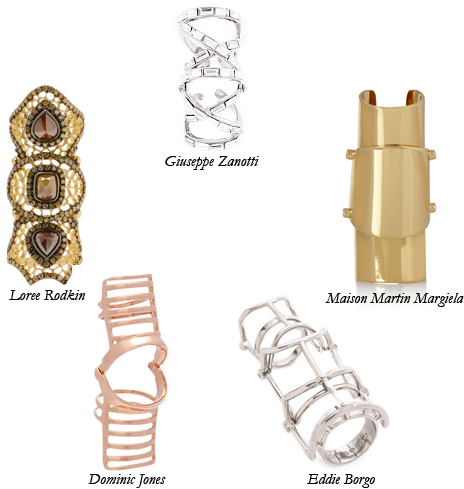 A simple cocktail ring is no longer enough to start up a conversation. But a full-finger ring? Well, that's something no one can miss. The trouble is that not all of these are articulated, limiting your basic movement and turning day-to-day tasks into serious challenges. Enter hinged rings! Sure they look like armor for your fingers, but if you're a warrior princess kind of gal, that just might be your thing.
Loree Rodkin Baby Spiderweb Bondage Ring with Diamonds:
Like all of Loree's treasures, this medieval style piece is meant for the serious collector – its spider web design is encrusted in diamonds! At Browns for $18,414.
Maison Martin Margiela Hinged Gold-Tone Ring:
This is literally what a finger from a suit of armor looks like, yet its minimalism makes the style work. On NET-A-PORTER for $440.
Dominic Jones Rose Gold Nama Ring:
With fans like Rihanna, Beyonce, and Florence Welch, it's no surprise to see Brit designer Jones come out with an unusual and eye-catching piece like this. At Barneys New York for $515.
Giuseppe Zanotti White Crystal Hinged Double Ring:
Giuseppe loves to cage us in, whether its with shoes or body harnesses. On Ssense for $550.
Eddie Borgo Hinged Ratchet Ring:
This one's a miss. It looks like a metal brace for your finger! People will ask if you've broken one of your digits – awkward. On Shopbop for $275.