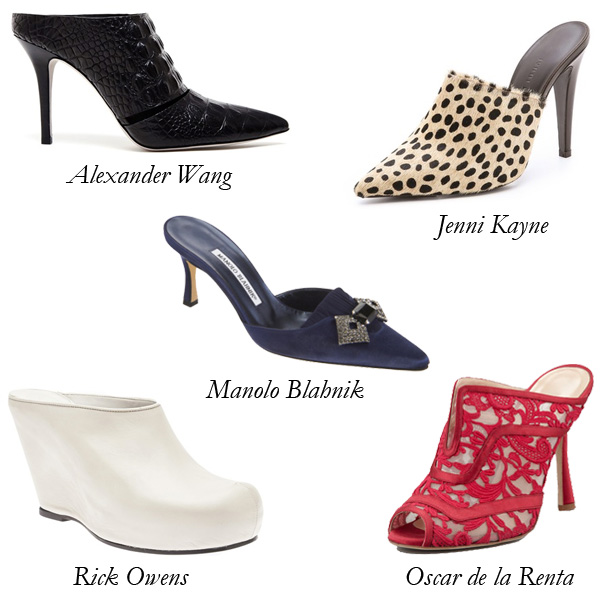 I pretty much lived in mules during the '90s, and now they're making a comeback! I've kept some old Tod's over the years for posterity. Tina and I had the same pair that we would wear to death, then buy another pair…of the same shoe. They were that great! There was just something about the danger of mules possibly falling off when you weren't paying attention that never failed to thrill. Walking in them is a true art form – one perfected by Marilyn Monroe, who brought the style to the forefront when she swayed hypnotically back and forth in her '50s hits. Not everyone's a fan, though (after all, they're really just slippers – slippers in the form of pumps, that is). Carine Roitfield has said that she hates the clomping that inevitably occurs with each step, calling it, "not very chic." Still, designers like Manolo (who did almost nothing else in the '80s) have built an industry out of the mule. Are you excited for its return?
Manolo Blahnik Lux:
This formal, jewel-embellished style always finds itself at galas and special events. It's distinctly feminine, making the shoe the perfect complement to ladylike gowns, yet it's more interesting to try the look out with a pair of black skinnies. Exclusively at Barneys New York for $895.
Alexander Wang Crocodile Embossed Leather Mules:
There's nothing like croc-embossed, pointed-toe stilettos to let everyone know that you mean business. On Farfetch for $812.29.
Oscar de la Renta Carleta Lace High-Heel Mule:
This ornately patterned, red lace mule would stun beneath a mini or trendy midi skirt. At Neiman Marcus for $865.
Rick Owens Wedge Mules:
Try the look with a wedge! Just make sure your outfit is super chic to avoid nurse shoe comparisons – leave the boot-cut pants at home. On Farfetch for $1,142.
Jenni Kayne Pointed Toe Mules:
Call it animal magnetism, but Jenni's pointed, leopard-print mules are calling to me. Wear them beneath your favorite pair of jeans for a touch of exotic flare. On Shopbop for $625.