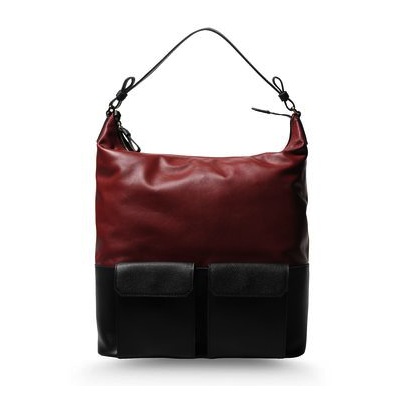 I have mixed feelings about this hobo. I love the fact that Andrea Incontri smartly designed it with two accommodating outer pockets because, as we all know, hobos are prone to swallow things up, leaving us to fumble in desperation for our essentials. But then there's a host of things I would do differently.
For one, the bold red-against-black colorblocking makes the bag too specific for everyday wear (try incorporating any non-neutral colors and you'll look like a clown).  While I agree with electing a varying texture for the pockets (rough over smooth), the entire bottom half of the bag shouldn't be different. Next to the pockets, the bold seams just look awkward. As for the rest, it all adds up to a daily bag you'd really benefit from carrying. With a slouchy, not saggy shape, it will stay comfortably on your shoulder, sitting at your side without slipping or banging around. And easy phone access is always a plus. What do you think: is it worth the limiting color palette and texture mix-up? On The Corner for $820.
Pair with: Keep it simple with a crisp, white shirt that has offbeat details. Vivienne Westwood Anglomania reinvents the classic with intriguingly exaggerated proportions. On NET-A-PORTER for $450.