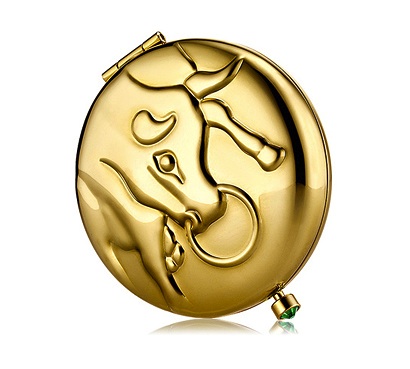 It seems that pretty much everyone who works in fashion or beauty is obsessed with astrology. I was at an event for a new site, Archetypeme, in the Hamptons last week and there was an astrologer on hand…he told one of the girls she wasn't going to get any action in the love department until 2016 – needless to say after she told me that I did not speak with him (sometimes ignorance is bliss…). In the same vein I met and spend nearly an hour with famed astrologer Susan Miller a few months ago and the only thing that ended up happening is that I cried (though she did tell me she felt a special connection with me and gave me her personal card, which she said she never does…that's gotta mean something, right?)!!! Susan Miller connection aside I may be the only beauty person not into astrology at the moment. I do however still love all things kitsch so a few days ago I bought one of these zodiac compacts from Estee Lauder (at Estee Lauder for $70 each). It's not the most useful product, but the translucent powder does work well to set my liquid foundation and it served its purpose which was mainly to cheer me up after a gloomy day.
I've also been burning Kat Burki's zodiac candles on and off for at least a year (even though my favorite scent is Gemini and I'm a Taurus…), and this line is totally adorable. There are so many products out there based on astrology – Soular Therapy is another cool line though I haven't tried any of their products yet – at the very least they make great gifts.
What do you guys think about astrology-based beauty products?