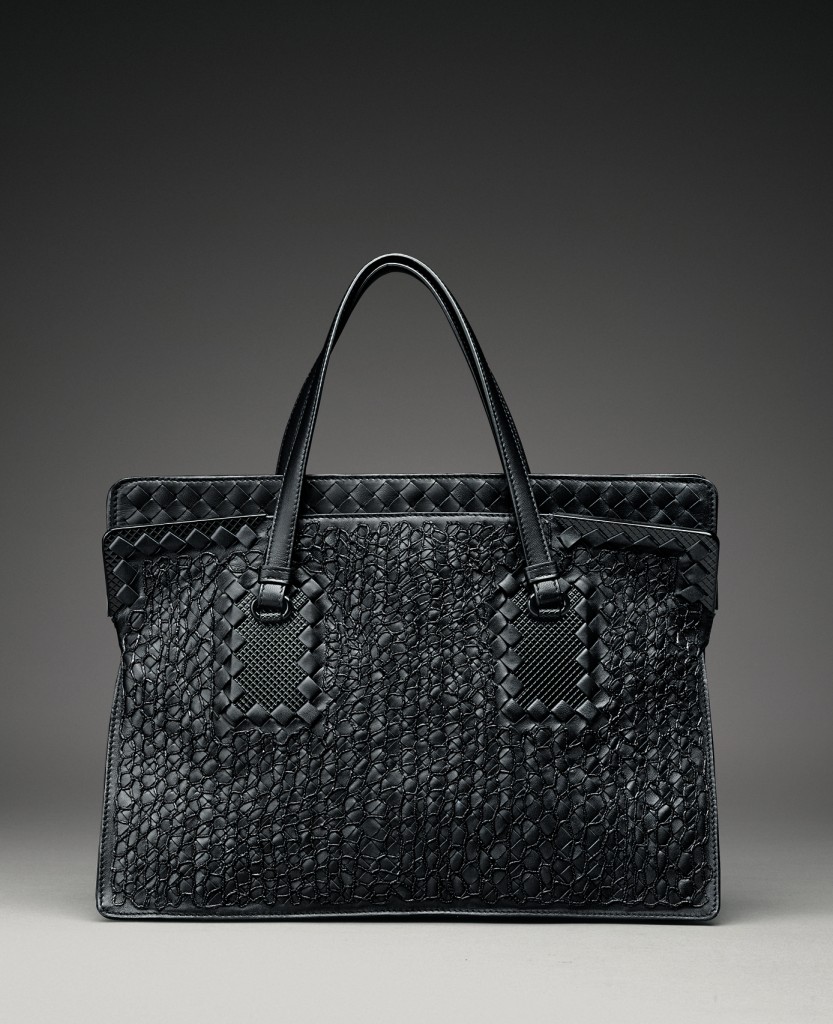 Bottega Veneta has added a new address to their boutique repertoire, and it's like no other in the family. At 8445 Melrose Place in LA, the concept store was designed by Tomas Maier himself and his refined aesthetic comes through in every detail. He wanted a clean, open space (no surprise there), uncluttered and calm. With every wall and shelf bright white, neutral details in dark brown and black, and every product at once carefully and casually displayed, the result is the feel of a chic downtown art gallery. Lots of latticework and an inviting, airy feel finish off the mellow mood, and best of all, the new location has some exclusive products and all the buying is done by Tomas. The concept: to cater to the specific LA audience. Lucky me!
On my first visit, Tomas struck a home run. I instantly fell in love with the most exquisite bag. The Tricot Raffia bag is fresh out of the Fall/Winter collection, and while the shape is basic, there's nothing basic about the rest of it. True to Bottega, it sports intrecciato, but that's not what makes it special. A hand-embroidered macramé treatment runs organically throughout the bag, imbuing it with an exotic, bewitching texture. The rest of the magic lies in the details: hardware topped the corners, as well as the plating on the handle attachment that has the signature intrecciato embossed onto the metal. One for the ages, the Tricot is sure to go down in history as one of Bottega's best. But it does require a hefty investment to get a piece of history. I haven't pulled the trigger, but I'm definitely still thinking about it. Fortunately, the shop is only a hop, skip, and a jump away while I mull it over.
The Tricot Raffia bag
, $4,950, available on NET-A-PORTER, and the Tricot Raffia Maxi hobo, $3,680, at Bottega Veneta.