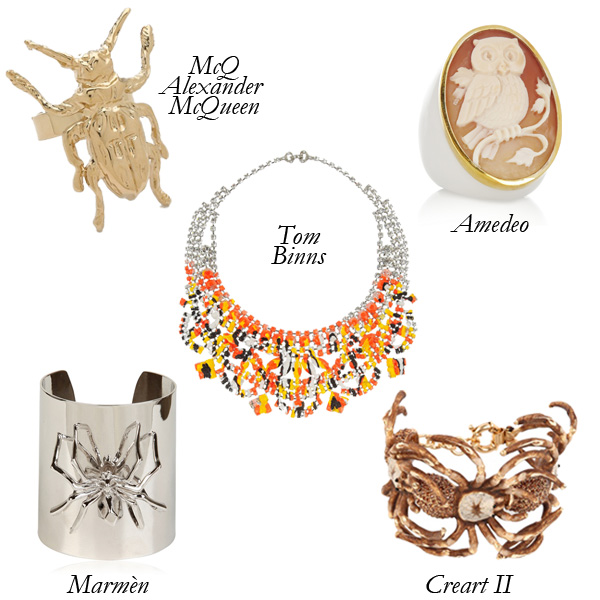 Halloween and costumes go hand-in-hand, but that doesn't mean your jewelry has to follow suit. Have fun with the holiday's themes – just do it with pieces that you can also wear outside the month of October! Orange and black, skulls (of the McQueen variety), and creepy crawlies are all on the table. Which will you be sporting for the witching hour?
Marmèn Spider Cuff Bracelet:
While there are some arachnid designs out there real enough to scare your friends silly, jewelry is not meant to frighten – it's meant to impress! Luisa via Roma for $621.
McQ Alexander McQueen Bug Ring:
Nothing gives you a fright like a big price tag, so for Halloween get McQueen's savagely beautiful style from the diffusion line. On Shopbop for $35.
Amedeo Gold-Plated, Agate, and Cornelian Owl Cameo Ring:
The wise old owl is a wise investment. Cameo jewelry has been around since ancient times, proving it's a style that outlasts all trends. On NET-A-PORTER for $1,800.
Tom Binns Co. Vert Rhodium and Silver-Plated Swarovski Crystal Necklace:
All right, this candy corn Tom Binns might be an October special in your wardrobe, but every once in a while there's a seasonal treat that you just can't deny yourself. On NET-A-PORTER for $2,075.
Creart II Spider Bracelet:
If it weren't for the brown Swarovski crystals, this 24-legged creation might truly terrify. The Italian designer also crafts serpentine jewels for those with arachnophobia…On Luisa via Roma for $1,242.