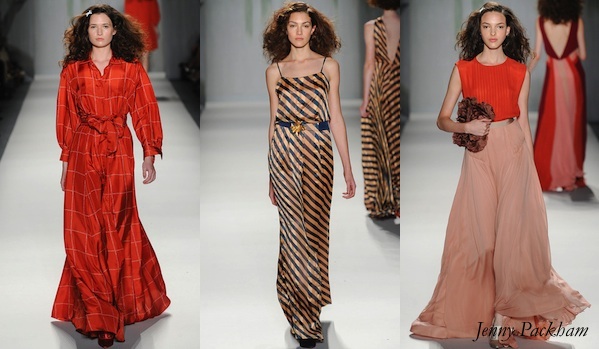 You can always count on eveningwear-maven Jenny Packham to go for romance over modernism, yesterday over tomorrow, and her Spring 2014 collection was barely a departure from her gorgeously feminine norm. But while staying true to her distinct aesthetic, she did manage to mix it up!
Inspired the 1975 Australian film Picnic at Hanging Rock (which takes place at the turn of the twentieth century), the collection combined the movie's Victorian grace with a free-wheeling mid-seventies edge. The result: a more casual feel than what we're used to seeing from Jenny. Of course, there are the lavishly embellished gowns, seemingly strictly designed for princesses who attend weekly balls, but on the flipside? She surprised us with a jumpsuit, separates, and flippy little day-dresses.
Sure, diaphanous, airy, and dreamy are the key words here, as volume seems to be absolutely everywhere this season, but wizened Jenny knows to relegate it just to the skirt and leave the bodice tailored and slim for a flattering effect. The show was impeccably paced, alternating bright, happy colors, like citrusy chartreuse and tomato orange, with soft smokes and dove gray. But the optimistic colors succeeded in making the whole show upbeat; even the music was jubilant, with the Beatles kicking off the set (although the movie is rather dark and strange). As for the standouts: the contrast of burnt-orange belt against a color-blocked dress of sunshine yellow and sky-blue dress was incredible, and a long, overflowing dress sporting an oversized plaid print makes for another favorite – just what one would wear to an Edwardian-era picnic.