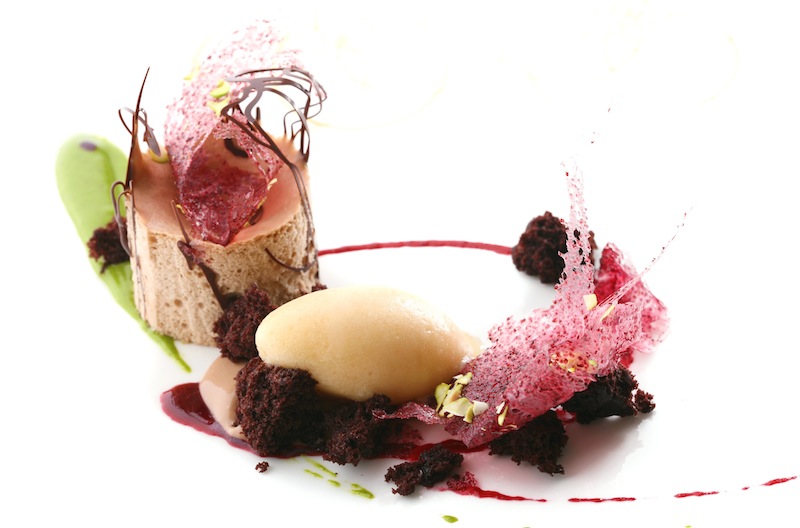 I'm going to start by saying something bold – Juni is the best restaurant I've ever been to in NYC, and considering how much I love to try new places, that says a lot! It's only a few weeks old, but Juni has already built up a solid following, including my friends and myself who dined there during NYFW. First, I have to begin with the space itself, situated nicely within Hotel Chandler. It was modern and clean, which is the best way to make the food the star of the show. Don't get me wrong – I love nice décor, but unless you're in Willy Wonka's chocolate factory, you don't eat décor. I'm all about the food, and the food here was divine.

The menu is prix fixe (you can do à la carte, though I wouldn't recommend it) with four, six, or 10 courses. Better yet, you have a choice for each course, so you can do all appetizers or entrees if that's what you're in the mood for. Also, there's a finely edited wine selection, which always makes a meal better. Since I went with two friends we decided to get different plates to try to get the full experience. We each got four courses (everyone at the table has to get the same number). Mine included a cold appetizer, a hot appetizer, an entrée, and a dessert! As you can see from the photos, the presentation of the food is like art (that friend you have who loves to Instagram her food is going to have a field day), but I promise it wasn't pretentious or fussy. The meal felt like it was made by a loving grandmother rather than by a handsome, young chef, though still in a very sexy way. A hot guy who can cook? It's the dream! Australian chef Shaun Hergatt headed up the Financial District's SHO Shaun Hergatt before Juni. He's spent 15 years perfecting his craft in the U.S. and it's safe to say that it is in fact perfect! His seasonally driven menu is timely, healthy, and most importantly, delicious.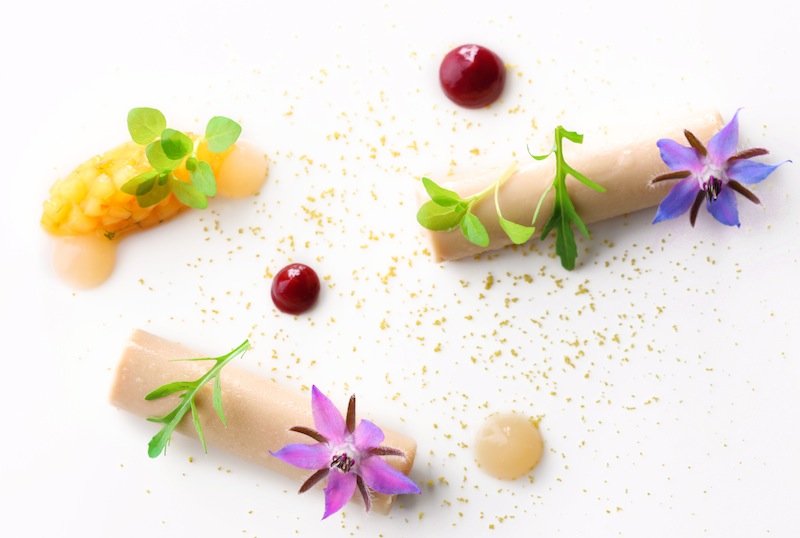 My first plate was the simplest of salads – toy box tomatoes with bush basil, tomato geleé, and blue basil flowers. The execution was minimal, which is just what Hergatt's going for – a focus on the strength of quality ingredients. The delicate, skinned tomatoes were bursting with flavor and sweetness. Next was kale soup – what's more comforting than that? It was beyond wonderful in the midst of Fashion Week madness. The kale is pureed and prepared with pork stock, then poured into a dish of sprouted lentils, barley, and smokey pork neck. I was glad I didn't have to share this one! There was an earthy crunch of grains mixed in with smooth broth that just made me feel taken care of – like I was at home.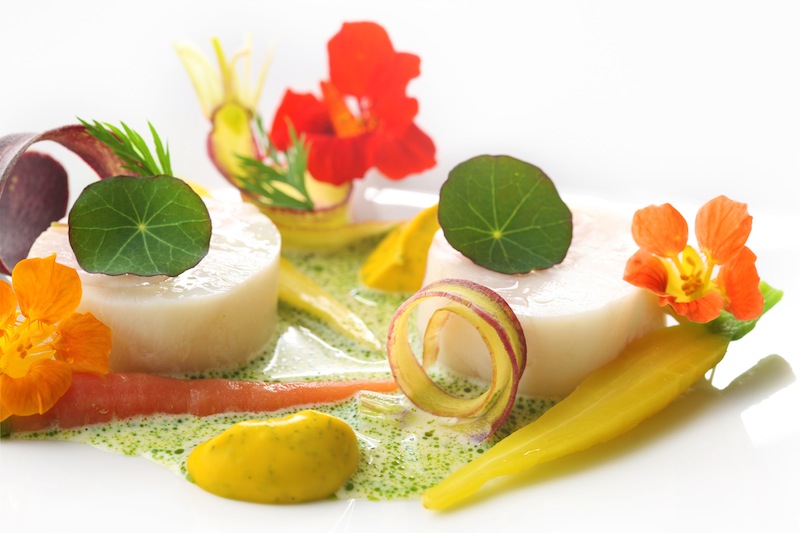 We also tried the Hudson Valley foie gras with peach tartare and pistachio dust. It's a pate, not seared, and just the right amount to leave you feeling satiated with flavor without overwhelming you with richness. With the sweetness of the fruit, the flavor was well balanced! The least flavorful of the dishes was the Montauk striper with tri-colored carrots, nasturtium emulsion, and mint oil. However if you're in the mood for something light, it might just hit the spot. On the other end of the spectrum is the Grimuad duck with anise hyssop, the chef's garden candy beets, and hibiscus jus. It wasn't as heavy as most duck dishes, though. The meat was thinly sliced with not too much fatty skin. The combination of the sour pickled beets and sweet hibiscus jus offset the intensity of the duck.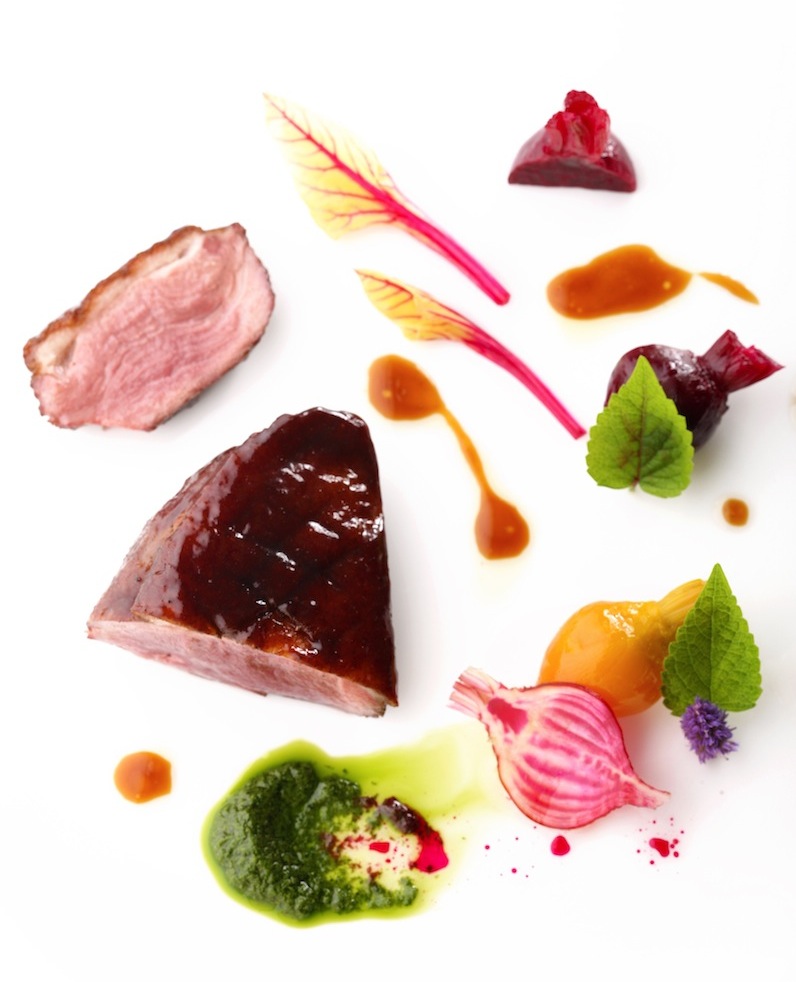 The most beautifully decadent course was dessert. My chocolate with pistachio and black plum was so pretty I hesitated to destroy it, but once I had a taste, it was all over. While the tart plum sorbet made the chocolate (in all forms – mousse, lattice, and sauce) taste even richer and more delicious, the second dessert is what will make this place famous – caramel corn with tarragon, lime, and cheddar. Yum! The puffed corn is infused with caramel and cheese, so it leans on the salty side, yet with caramel and lime mousse, as well as a few sprigs of tarragon, there is sweetness to be found. It leaves you in just the right place – full, yet light, and ready to come back! Try Juni for yourself at 12 East 31st Street.