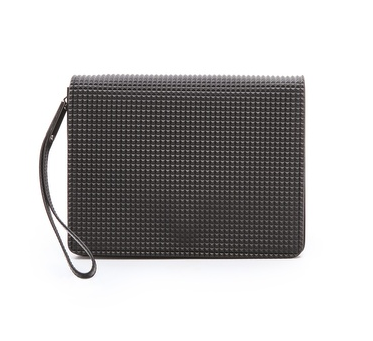 Sometimes my relationships with brands are like my most volatile relationships in life. What I love most about Maison Martin Margiela is one minute I'm hating on them, and the next I'm back in love. The house of Margiela is full of surprises (do weird rhinestones reminiscent of an undergrad's bead-curtain doorway ring a bell?) But igniting this kind of passion is what the brand is all about.
These days, everything in the world is studded, but this isn't an ordinary studded leather clutch. These all-over pyramid studs have received a rubberized treatment, so the bag looks embossed and textural, not awkward and hardware-heavy. And the details are undeniably practical: a wristlet is always awesome to have, but this is also detachable, and the multi-pocket (one with a zipper) interior organization turns this into a working clutch. It's something you can almost use during the day, and odds are you'll be tempted. Simple, versatile, and edgy, all at once: very few brands can accomplish this. Which is why I'm so excited…After all, the most volatile relationships tend to be the most satisfying. On Shopbop
for $1,380.
Pair with: A sultry-meets-sweet LBD that moves effortlessly from day to night, like Alice + Olivia's Courtnee dress. The crisp white collar and cuffs keep you buttoned up while the form-fitting silhouette spells sex appeal. At Saks Fifth Avenue for $297.