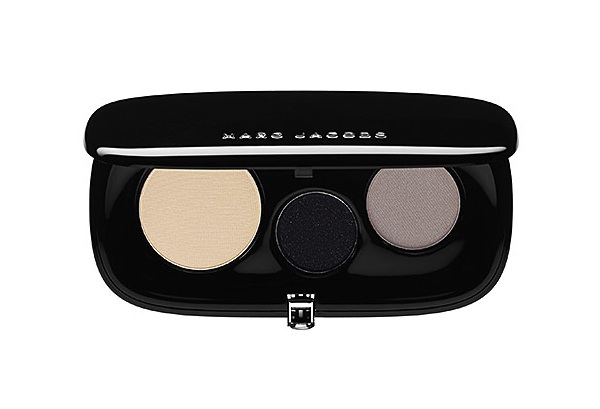 The hype around Marc Jacobs' makeup has turned out to be very justified. This weekend, I tried out the Mod eye palette and mascara gifted by Tina (thank you!!) and was instantly excited.
Let me start by admitting that almost every palette I buy includes colors that could work in theory, but are just not practical. I end up only using the blacks and browns, only to put a bright blue to waste. Jacobs, however, has created the perfect mix of three colors in a few compacts for each girl to choose her own usuals and favorites. There are neutral palettes filled with brown variations, a contrasting combo with a bright pink and deep plum, and a daring purple mix among others. I received a combo with two light shimmers and one black glitter shadow that contrast surprisingly well. The base color is super sheer for a natural sheen that won't crease because of its lightweight nature. Same goes for the highlighting shadow that is slightly darker. The two benefit from being light, although I can't say the same for the black. It doesn't hold as well as I'd like, but a little shadow base and water always do the trick! I will never tire of a good smokey eye, and the three shadows work perfectly together to create equal parts pop and highlighting. It's the simplified version of all my favorite shadows in one, clean compact.
The mascara is also as natural and light, for those who need a soft, subtle enhancement. For me though, I need something a little more intense, so I'll stick with my favorite Dior mascara. The Marc Jacobs girl has always been uniquely beautiful with an alluring quality you can't quite pin (think Sofia Coppola, Selma Blair, Elle Fanning), and this makeup line might just help you enter that clique. What's your favorite foolproof palette?
Mod shadow ($42) and mascara ($26) available at Sephora.