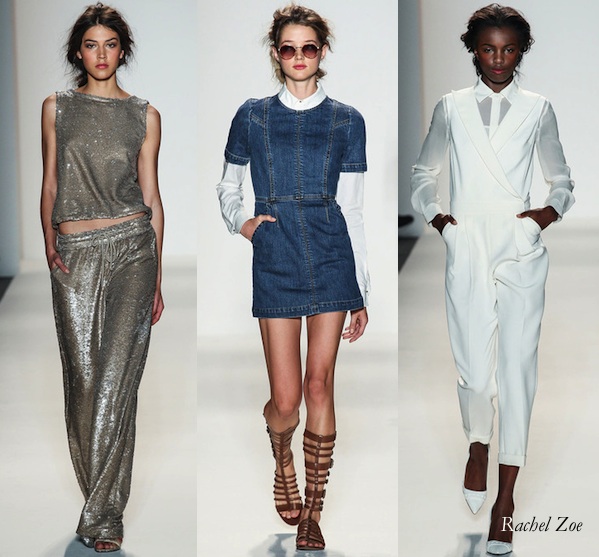 Leave it to Rachel Zoe to make sequined sweatpants look sophisticated. Her casual California cool never comes without an air of elegance. We saw the usual suspects (jumpsuits and maxi dresses) as well as some welcome newcomers (long denim skirts and polished laser cut jackets). Just like Zoe's own street style wardrobe, the suits were tailored to perfection, yet in the most relaxed way. Ultimately it was the footwear that won my heart, though. Come spring, knee-high gladiators and Birkenstock style sandals will be on every Snob's list.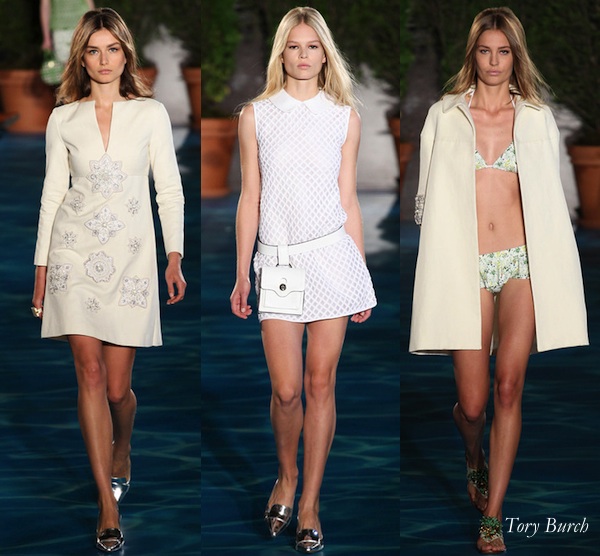 Watching the models float along Tory Burch's runway felt like watching friends walk into a garden party. There were lattice floral prints (as well as actual bouquets carried in bags), jeweled collars, even belt bags – and good ones at that! The gathering possessed a childlike attitude – and I mean that in a good way. Wearing a coat over a bikini? I can get on board with that! The only thing that left me wanting was the eveningwear. She didn't bring anything new there, but a Tory Burch girl prefers a mini dress anyway.

This year marks the 40th anniversary of Elie Tahari's company, and we weren't the only ones celebrating! Inside the window displays of the store, mannequins (a.k.a. models) came to life in creations. Once inside, you got a closer look – the collection was a mix of slick and sporty fabrics with sheer chiffon. While he updated some of his iconic pieces (the swing coat, jumpsuit, and shift dress) for the Edition 1974 collection, there were plenty of new looks, as well. The designer latest looks were inspired by the architecture of Brasilia, a city known for its futuristic style. It seems in Elie's future world, we'll be wearing organza parkas and fitted scuba dresses. Sign me up!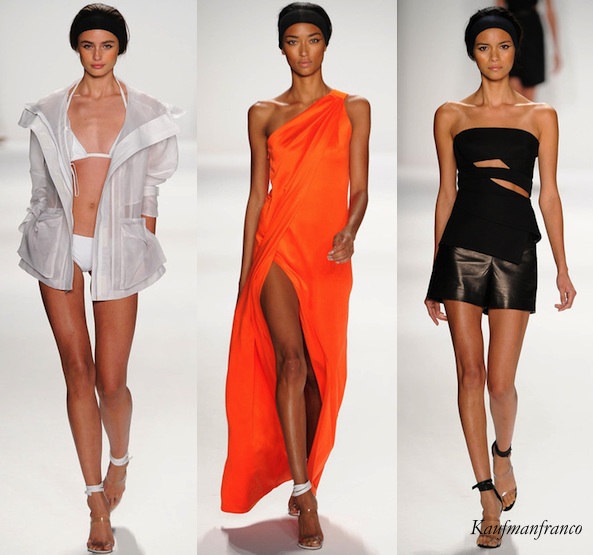 Springtime often brings flowers and vivid patterns to herald in the new season, and yet there wasn't a print in sight at Kaufmanfranco. That wouldn't be their way. There were some glitzy red carpet looks, but for the most part the collection was all about simple daywear. Daywear for the "urban huntress" to be exact. Nappa leather leggings, bandage tops, and yet another coat over bikini look (think après-ski, pre-hot tub) – and another organza parka, at that! If there's one takeaway from these shows, it's that spring is going to be sporty – albeit a very upscale kind of sporty. Are you ready to dress the part?