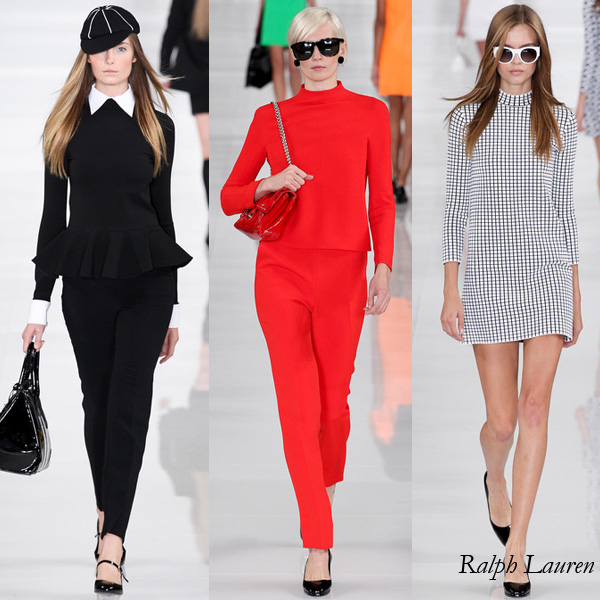 Ralph Lauren's Spring 2014 show kicked off with a sporty mood and a stark palette. Flirty skirt suits and adorable peplum dresses came only in perfectly coordinated combinations of bright white and black-as-can-be black. It made for a fresh, fun take on boy-meets-girl uniform, from the super-crisp collars with dagger-sharp points to the buttery leathers and slick patents, the scaled-down ties to the mod-inspired caps. But Ralph didn't stop at solids. Instead, he embraced an almost dizzying array of graphic patterns: vertical stripes for badass prep, optics reminiscent of something Lady Miss Kier would wear in her "Groove is in the Heart" heyday, and ironically cutesy florals that feel even more mid-nineties in attitude.
But all that zero-color dressing was just an optical illusion, so to speak. Then came the color! Vivid, saturated, and satisfying: a shock of neon, via orange leather hit the runway, and the bright primary colors kept coming. A yellow knit, green jacket, blue dress: all simply tailored, precisely cut and immaculately structured. The casual outfits were accompanied by schoolgirl knee socks and variations of the Ricky we know and love, including a super-cute mini and the Chain Ricky, a shoulder flap version I loved. The clutch is great too, as it offers less hardware.
Then the drama arrived, in pure Ralph fashion. Adamant in not resorting to gimmicks or excessive adornments, he relies on the keen eye and sense of craftsmanship that built his brand in the first place. These are dresses of ruffles and floral bursts of silk gazar, all so immaculately executed, each took on a life of its own. So gorgeous they don't require jewelry, the minimal gowns dazzled, especially the masterpiece of cobalt gazar worn by Karlie, and the finale: a rich red dress with a sweeping cape that glided off of the shoulders like a superhero's costume. How apropos for the American icon who has become one in our eyes.