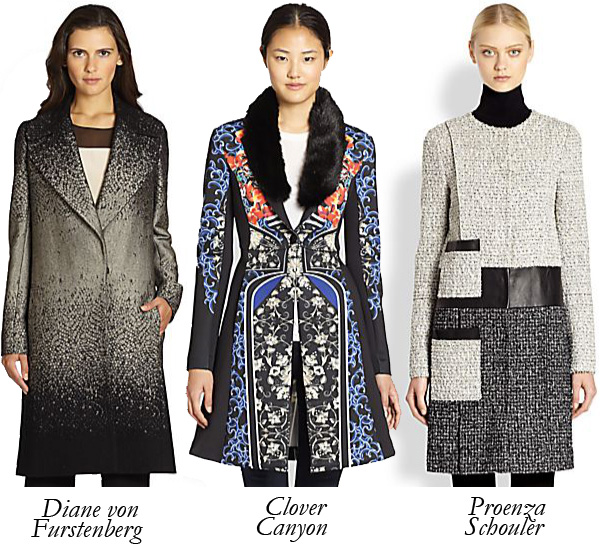 Covering up for fall and winter tends to annoy the fashion crowd. Who wants to conceal a great outfit? The secret is to make your coat the main event, and with outerwear printed and paneled like this, you should have no trouble doing just that. Each coat strikes the balance between sophistication and daily wearability. Which one will you be cozying up in this season?
Diane von Furstenberg Nala Ombré Stretch-Wool Coat:
The classic black coat gets updated for Fall 2013 with on-trend ombré and seasonally satisfying metallics. At Saks Fifth Avenue for $795.
Clover Canyon Royal Egg Convertible Neoprene Coat:
This gorgeous, printed neoprene coat can take you from fall to winter with ease thanks to a removable (faux) fur collar. Exclusively at Saks Fifth Avenue for $550.
Proenza Schouler Tweed Collarless Coat:
A tweed coat? Been there, done that! But a tweed coat blocked with leather? Well, that's something to take notice of (and snap up ASAP). At Saks Fifth Avenue for $2,950.
Dolce & Gabbana Lace-Panel Tweed Coat:
Lace was all over the Spring 2014 runways. Get a jump on the trend with Dolce & Gabbana's tweed coat. The forest green lace makes me feel like this was designed by Tinkerbell! On Matches for $3,219.
Mary Katrantzou Saga Trees Ombre Jacquard Coat:
This print is pretty mild for Katrantzou (making it a great choice for those who are print-shy), but just as stunning as always. On Matches for $2,787.