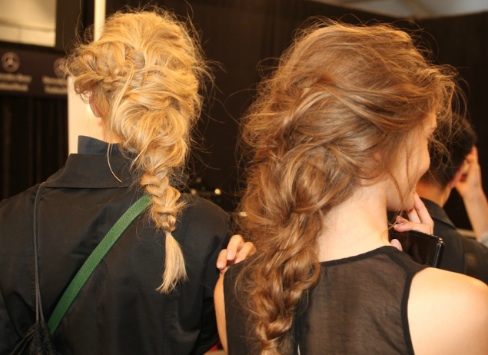 My dad's favorite toy is his Maserati….who could blame him? There's nothing like driving top down, down an open road. If only my hair looked as fabulous as that of Rachel Zoe's models when windswept! (and my dad trusted me enough to drive his car…). Moroccanoil's artistic director created the soft textured look, pictured above, which was inspired by "windswept safari days and subtle tribal details." I'm kind of obsessed with this look even though it looks like something that could possibly damage hair/be a big pain to undo at the end of the night. What do you guys think? Below is the step-by-step.
*  Start with Moroccanoil Treatment
on dry hair to condition, strengthen and smooth and then spray Moroccanoil Root Boost
(at the roots starting at the nape and working up).
*  Then warm Moroccanoil Molding Cream
between fingers and work it in from roots to ends.
*  Next blow dry the hair from underneath and lift it at the roots using fingers.
*  When almost dry and with head bent over, finger-massage the hair at the root and lift it again to intensify the tangled texture.
*  Section the hair from ear to ear and pin it up while creating a braid with remaining strands at the nape of the neck.
*  Release the top hair and then tuck different parts of the various strands into the braid like macramé and blend them into waves, creating a loose, inverse-pyramid shape that's wider on top.
*  Softly rotate palm over the hair to make it lie naturally.
*  To add a tribal vibe, make several little braids placed randomly at the sides.
*  Lastly, take baby hairs around the hairline and pull them out.
The whole lifting the hair when upside down scares me – I am paranoid as is about hair loss and don't need to be ripping knots out – but I think this is a look that could easily be done with less of a "windswept" effect and still look nice. Namely I love the idea of the randomly placed little braids.