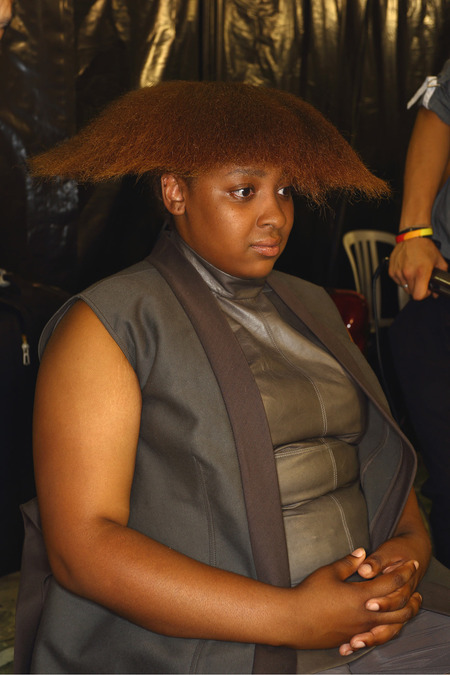 If there's one collection no one can get off their mind it's Rick Owens. Taking diversity to a whole new level, the designer opted to enlist a troupe of athletic steppers to perform in his creations this season. That's right – not one model was used. Better yet the hair and makeup was all about making the performers feel comfortable so this was truly "real woman beauty."
Luigi Murenu headed up the hair team and created four different styles. The first was big poof, which was created by straightening the hair and then using a crimping iron and brushing out the kinks with a Mason Pearson brush to get a "cotton candy-like finish that flew with each aggressive stomp," Murenu told style.com. Other women had their hair back in a slicked-back chignon, created using Kérastase Vinyle Nutri-Sculpt and hair spray, while the last two styles were hair that was blown straight with a center part ,and lastly some women had low, sleek ponytails. My favorite of course is the poof! It's fun, and I love that the texture of the women's hair was embraced. Makeup-wise things were kept clean in keeping with the "real" theme of the beauty look. Lucia Pieroni said he worked with each of the performers to find exactly what was right for them. The only common items were light foundation, concealer, eyebrow pencil to fill in where needed, and lip balm.
Obviously this is an extreme version of "real beauty," but I think it's fantastic that a designer has chosen to show his pieces on women who have more mainstream body types.
What are your thoughts on the look?
Image: style.com