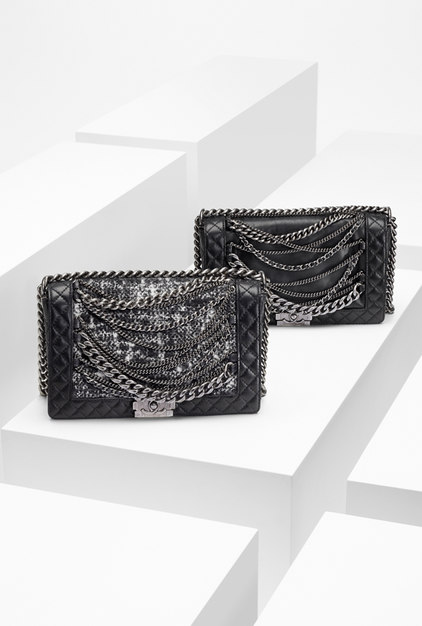 I've been eying the Chanel Boy since it first came out; I just haven't been able to pull the trigger, as I've been over-thinking it (a twist on a classic, does it read too trendy?). But now there's this version. The Chain bag – overtly, excessively, delightfully decked in, duh, chains – might just have what it takes to tilt the rational side of my brain to the emotional side. The one that turns "lust" into "must." This kind of thinking is how impulse purchases get you in trouble, but in this case, I am positive there will be no buyer's remorse.
Needless to say, it's definitely more directional than other versions. True, it's not as classic as the unadorned…Although when have chains ever been out? And trust they're not going anywhere anytime soon. Plus, these gleaming links have been artfully composed and arranged, providing endless entertainment for the eye (and fidgety hands). It's so fun to dress down a Chanel, and when the next occasion requires a dressy bag, this one won't make me feel like I've suddenly gone stodgy. It still gets the job done when propriety is in order, but will always let your fun side stay front and center. And there is definitely something to be said for that.
Call Chanel at 800-550-0005 to find out which boutique carries the Boy Chain, retailing for $5,100.