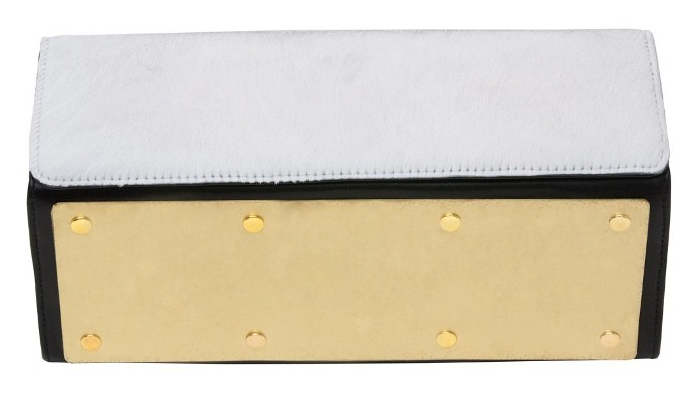 Season after season, Dareen Hakim continues to delight with totally unique designs. Globetrotting Dareen, who grew up in Beirut and now divides her time between California and New York, is clearly inspired by her travels. Her latest clutch design is called Le Louvre, but if it doesn't bring to mind Mona Lisa's coy smile, à la da Vinci's famed painting, or the feminine curves of the Venus de Milo statue, don't be confused. This statement-maker is inspired by the famed glass-and-metal Louvre Pyramid, which sits outside the museum.
Avant-garde, playful and ultimately functional, this distinctive triangle comes in white pony-hair with black leather, as well as alligator-embossed leather in mauve, black, or emerald. A wristlet strap lets you carry at your convenience, and however you choose to hold it, that sick metal plaque is a head-turner. The triangle might be my new favorite shape – this is making me want to throw away all my flat envelope clutches! At Dareen Hakim for $375.
Pair with: An equally uncommon piece of jewelry, like Loren Stewart's Bolero necklace. This intriguing yet subtle cable chain won't try too hard to compete with your clutch. At Barneys New York for $965.