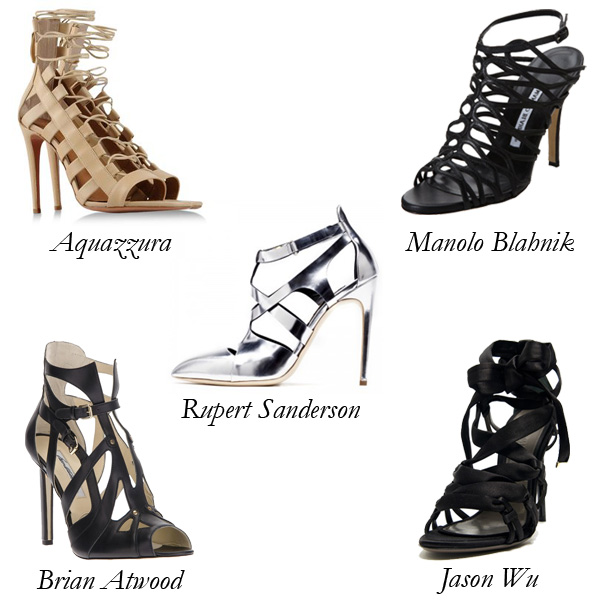 Cold weather keeping you from wearing sandals in the winter? Don't let it stop you! Okay, adding a few extra straps won't exactly prevent frostbite, but it looks like it might (go with me here) and besides, it's mind over matter. Just make sure you have the Uber car service app downloaded – that way you can catch a ride when things start to get a little too icy! Here are the extra strappy sandals I'll be wearing this winter come hell or high wind…
Aquazzura Sandals: Most strappy sandals crisscross in convoluted patterns, yet there's something so flattering about Edgardo Osorio's simple, horizontal straps. On Shoescribe.com for $720.
Manolo Blahnik Coddila:
Every Snob needs a pair of foolproof formal shoes. These will go with virtually any dress, so on those nights when you're running late to the party, just grab these and go. At Barneys New York for $985.
Rupert Sanderson Moiki: After obsessing over Rupert's gorgeous new bags, I had to go back to his legacy – the shoes. A pair of metallic sandals is a must this season, and I love how he designed pointed toes, rather than open ones – the Moiki will be a hot ticket for cold nights! On Rupert Sanderson for $995.
Brian Atwood Rhea Sandal:
Brian's straps are far from skinny, offering a sense of strength to these black buckled Rheas. With the sturdy stilettos, you'll be able to stay on the move all day and night. On Farfetch for $900.73.
Jason Wu Gia Sandal:
These black satin ribbons bring to mind tie-up ballet slippers – of the black swan variety, that is. Plus, you get a four-inch heel, so you can fake that enviable ballerina height. On Farfetch for $975.