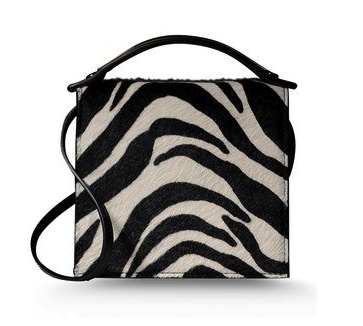 When Giuseppe Zanotti gets a bag right, he really gets it right (and because I love this bag, I won't talk about what happens when he doesn't). This small leather number takes what I love about Zanotti's fantastically glamorous shoes and sets it in bag form. A brilliant and stunning design, it conveys instant sex appeal. One reason being the pattern of super-seductive zebra stripes.
Yes, such a bold application of animal print exclaims, "I'm a confident bitch, now hear me roar!" But the swoon factor doesn't end there. It also offers a new perspective on the use of hardware. A top-handle clutch is smart and perfect (and feels especially on-trend now), especially for a pony-hair bag. Not only because you will get it dirty and bald, but it's itchy on the hand. The curved handle sits above the bag like a sleek bridge, and the hardware acts as a chic trim on the ends. The shape is just simple enough: nearly a perfect square, but the curved gussets give you a different perspective from the side view. The price? Also amazing. On The Corner for $850.
Pair with: Go Giuseppe from hand to toe with his center-zip booties in military-green suede, topped with a sexy gold zipper. At Barneys New York for $895.