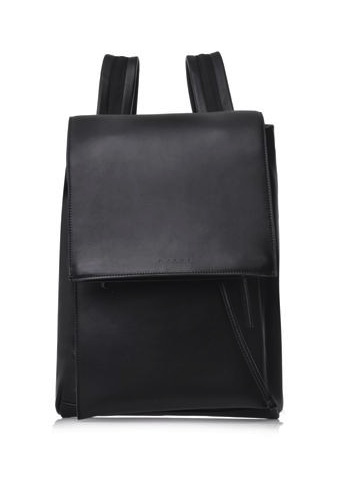 Finding a genuinely chic backpack is no easy task. The ultimate hands-free style is everywhere, but rarely does it look so smart. The key? By channeling the feel of a classic tote, Marni has executed a fully-functioning backpack, breathing sleekness and sophistication into every kid's favorite kind of schoolbag. But trust this is for grown women only!
Very structured and a bit manly: that's what imbues this kind of minimalism with an über-cool vibe. And minimalism is the operative word here. Instead of leaving the zippered pocket exposed, it's hidden under a coy flap for subtle security. The functionality is in the details. Padded straps mean you can comfortably carry your laptop all day long (if it's 13″ or smaller). A bag like this is made to really work for you, especially during the winter months when keeping a tote on your shoulder over a big coat feels cumbersome. This year, put your tote away and enjoy the hands-free life. At Matches Fashion
for $1,577.
Pair with: Keep all your essentials seriously organized with Diane von Furstenberg's trio of lipstick-print pouches in varying sizes and colors. On NET-A-PORTER
for $85.