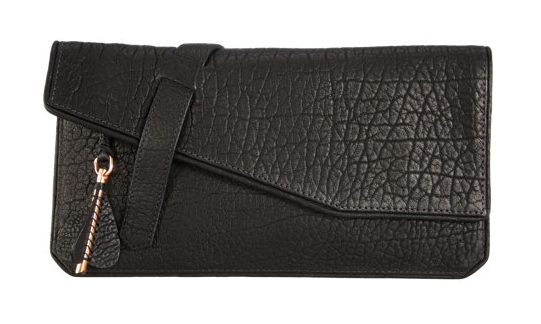 Los Angeles-based brand Parabellum is not your average leather line. The founding duo, Mike Feldman and Jason Jones, grew up obsessed with antiques, thanks to their grandfather's West Hollywood shop, and they've taken that old-world mentality (think quality over quantity and the real meaning of artisanal) and applied to their bags.
If the texture of the Naomi clutch looks more rugged and striking than most skin, that's because it is. All of Parabellum's hand-crafted pieces are sourced from American bison, in the spirit of the old Wild West. They even manage the treatment of animals ranches, as well as oversee their own five-person-run tannery.
This small, flat clutch will only fit the most essential of essentials, but it does have a dangling key fob to save you some room inside. Cool, confident, and edgy: the key fob is an arrow, to match the vibe of the skin. This brand is all about the earth and land. My only issue is with the price, which is not too down-to-earth: new lines should be wise enough to reel us in with gentler pricing. At Barneys New York for $1,100.
Pair with: Karl Lagerfeld's tartan mini-dress brings a hint of mod-punk to this season's biggest print – and brings the right amount of laidback polish to a relaxed clutch. On NET-A-PORTER for $370.