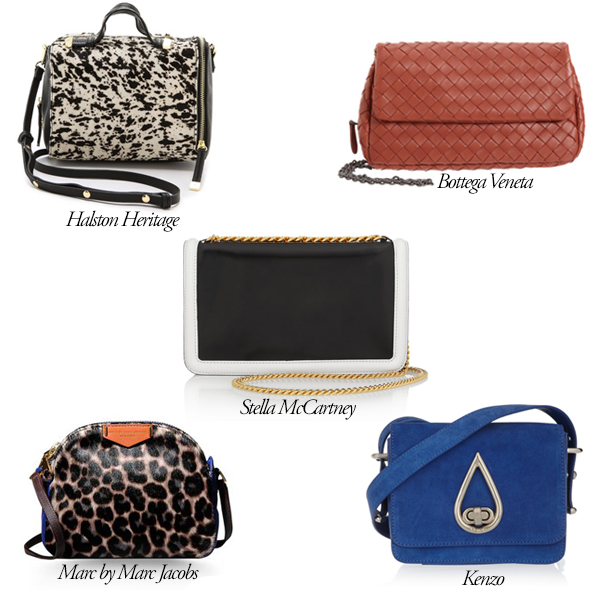 There are days when it's all about the bag. You take out your wardrobe's best and enjoy putting forth the energy to baby it with precious treatment. And then there are those days when life gets in the way and you're too busy to worry about taking care of an investment piece while you go about your business.
You need a daily kick-around bag, but, of course, one that also stands up to the snob challenge. I hate when I can't use the bag I want due to the annoying logistics of life. These five picks leave your sense of style in tact and still make those days fun. Equally high in terms of style and function, these five are big enough for your essentials, yet neither cumbersome nor high-maintenance.
1. Halston Heritage Haircalf Baby Satchel:
Flirty abstract spots and funky zipper detailing: this one is amazingly cute, and the side zipper pouch is designed to store all your secrets. On Shopbop for $475.
2. Bottega Veneta Intrecciato Mini Messenger Bag: The color, a shade of brick-meets-brown that's endlessly practical, just says fall. This timeless beauty may not make you insane with "gotta have it" love, but you'll inevitably use it for life. At Barneys New York for $1,350.
3. Marc By Marc Jacobs Medium Leather Bag: A punch of cobalt blue makes leopard-print pony skin feel fresh again, and it adds up to a practical little day bag that stands out among the rest. On The Corner for $345.
4. Kenzo Suede Shoulder Bag: I sound like a broken record, but blue takes the blues right out of dreary days. A bag like this goes with everything. With awesomely unique closure hardware, it's a home run. On NET-A-PORTER for $685.
5. Stella McCartney Faux Leather Shoulder Bag: Graphic black and white is on trend, so you'll be inclined to keep this on all season. Topped with a skinny gold chain strap to throw over your shoulder, carrying Stella's autumn update is easy and addictive. On NET-A-PORTER for $1,050.