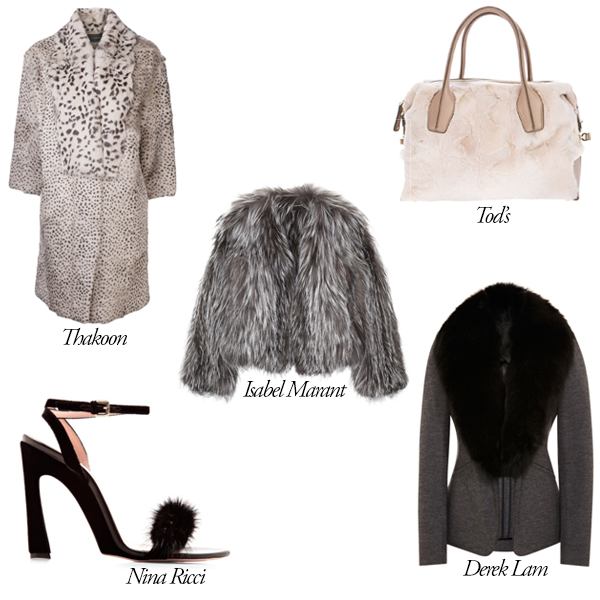 It's finally the time of year when I can pull out my furs and luxuriate in pure decadence! Try as I might to incorporate a little into my spring and summer wardrobe, it's just not the same. Fur is tricky and can go wrong so easily (and when it does, it's such a waste of precious material). I long to drape myself in a full-on coat, but for those who prefer just a flash of mink, there are Snobby options for all. How do you like to wear your fur?
Thakoon Fur Collar Coat
: A little fur goes a long way, so this is for the coldest of days. Big coats tend to overwhelm, yet a different collar removes focus from the whole picture and keeps everyone from looking at you like you're the Abominable Snowman! On Farfetch for $2,730.
Tod's Fur Tote:
A beige and white mink bag is begging for trouble, but it's just so beautiful! Plus, the price isn't bad at all for what you're getting. Sometimes you have to throw caution to the wind. On Farfetch for $2,285.83.
Isabel Marant Aileen Fox Jacket:
Even though Isabel can do no wrong, this is exceptionally stunning. The cropped style keeps the look of the long hair precise and the coat nicely tailored. On NET-A-PORTER for $7,175.
Nina Ricci Embellished Mink and Velvet Sandals:
While fur on a sandal won't warm you like fur on a boot, it adds a nice boudoir touch to this slinky sandal. On Moda Operandi for $1,050.
Derek Lam Fox-Collared Wool-Blend Blazer:
This fox-collared option lets you keep a sleek silhouette, while still enjoying the warmth of a cozy collar. On Moda Operandi for $3,150.