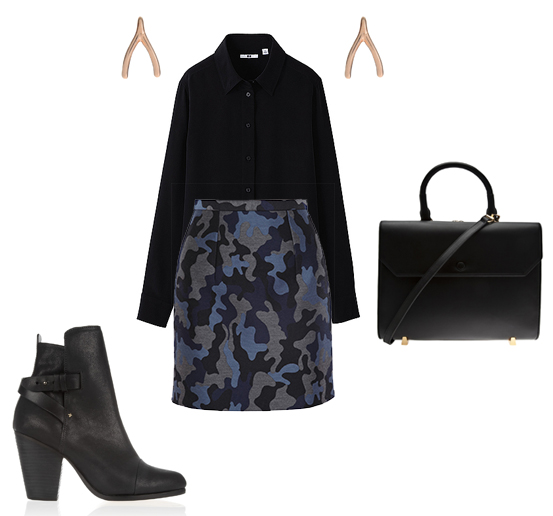 Walking around the NYU campus provides you with a lot of hilarious, insightful, and plain quintessential college conversations. Lately though, internships and jobs have been a popular topic – and more importantly, what to wear to an interview. It got me thinking, there are the obvious desires to look professional and mature, but you also want to look smart and stylish. The truth is, no matter how good you look on paper, presenting yourself in person to reflect all the intellect and passion we know you snobs have is important. So here we go: here's a foolproof outfit that is as chic as it means business. What are your interview staples?
1. Uniqlo Long Sleeve Blouse: A sleek button down can be the prim and proper (and affordable!) answer to your winning outfit. It's safe, but classically chic. At Uniqlo for $49.90.
2. Christopher Kane Camouflage Skirt: Every girl needs a perfect pencil skirt, but you can do a little revising with a chic pattern and more form. The shape is still acceptable for work, and the color combos are just subtle enough for the office. On NET-A-PORTER for $860.
3. Rag & Bone Kinsey Ankle Boots: Shoes are always key, and these leather booties add a little lift without being overwhelming – a perfect answer to heels in the fall. On NET-A-PORTER for $595.
4. Alexander Wang Chastity Satchel: A revamped briefcase is all you need to finish your look off. AWang is never trying too hard, but it will be surprisingly convenient.  On Farfetch for $1,095.
5. Jennifer Meyer Wishbone Earrings: Bring good luck with you with these adorable wishbone earrings in rose gold! At Barneys New York for $300.