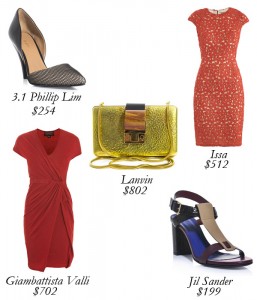 Today's the last day to get MATCHESFASHION.COM's Style Steals! Take a look at Bag Snob's favorites.
Fashionista reports that this year's Pirelli calendar will feature more cars and less nudity. Will it still sell?
Some people collect Barbies. Snob Living collects Lanvin dolls!
LVMH announces that it will have a young designer competition, but the real question is will it be made into a TV show? Keep up with the details on The Cut.
Jewel Snob's holiday gift to us – 20% off Charm & Chain.
Take a whiff of the best oud perfumes on Byrdie.
Shoe Snob loves Birkenstocks, but would you wear them?
Nike updates its popular FuelBand for the fashion set. See how bloggers style the rose gold bracelet on SHEfinds.
Couture Snob's latest fashion fusion? The coat dress!
Get tips on how to pull off a suit on WWW.
Beauty Snob takes an hour-long bath everyday. See which products are part of her daily routine.