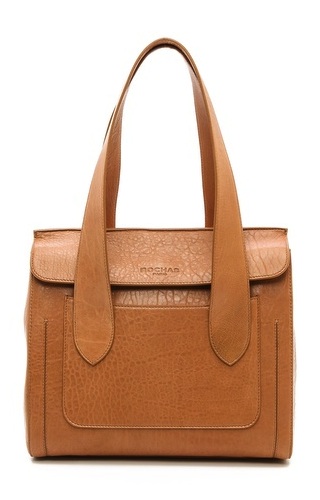 No hesitation here. This bag got added to my shopping cart instantaneously, without a momentary pause of consideration. My love for it goes beyond my standard obsession with bags.
Striking simplicity will always grab my attention, but there is actually a lot going on here. Rochas' sense of design savvy fools you. Attaching straps to a tote's outer pocket is a genius move, one that really hits home for me because it simultaneously solves a problem and creates visual intrigue, especially with such oversized tabs. The slim flap offers a degree of security, but it doesn't have closure (and nor does it require fastening), which works for me. Ease is what I need.
This lambskin is so lush. Grainy texture gives it something extra and the color is so neutral it should border on boring, but instead it's gorgeous and soothing to the senses. To top it off, the size is just right; these shoulder straps are long enough to fit comfortably over a jacket. Just everything about this bag is perfection, for my lifestyle and in my eyes. Case closed. Rochas Leather Tote on Shopbop
for $1,575.
Pair with: Belstaff's Shaftesbury bootie is as comfortable and effortless as it is lust-worthy. And thanks to a lug sole, you won't even notice that nearly 5" heel. Available for pre-order at Barneys New York for $795 (expect delivery in January).