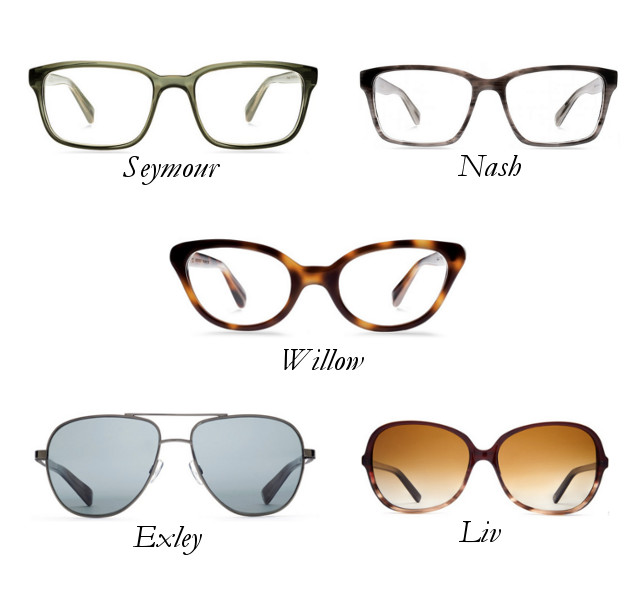 I just had my eyes checked, and yet again I got a new prescription. Since putting a fresh pair of non-glare lenses into my current frames would cost $320 (!!), I decided to buy a different pair. The latest must-haves come from Warby Parker, a brand my brother-in-law introduced me to. Not only are their frames shockingly affordable, but they also donate a pair to people in need every time one is purchased. So far Warby's given away half a million glasses! On top of all that, they'll send you up to five pairs to try on at home with zero shipping fees charged. Once you choose the pair you like, just send them back, and Warby will mail you frames fitted with your prescription. Optical glasses are $95 (anti-glare included) and prescription sunglasses are $145. Basically these cost a 1/3rd of what I normally pay, plus Warby donates another! The price and feel-good appeal can't be beat.
Seymour ($95): If you go with a simple pair of frames, spice them up with an unusual color. Sage green is like a neutral and looks nice against pretty much any hair color or skin tone.
Nash ($95): These square frames are a little bigger than the Seymour's, meaning they'll flatter even more face shapes.
Willow ($145): Go a little retro with these tortoiseshell-style cat eyes. This is not available for home or virtual try-on, so make sure you like the frames before buying.
Exley ($145 – $195): Save some money (and space in your bag) by making your glasses your sunglasses too! It's just $50 extra to get these with your prescription.
Liv ($95 – $150): If you prefer oversized to aviators, the ladylike Liv is sure to please.