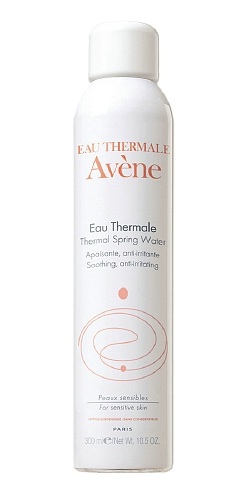 I have lots of hydrating atomizers and have used them forever, thinking they're pretty much all the same. Until I started using Avene's Thermal Spring Water, that is. This isn't like the Evian that's just water in a special dispenser that atomizes. To begin with, Avene's particular dispenser is a little more complex. It sprays out smaller molecules of water for easy absorption and not to sound childish, but the soft mist is nothing like harsher sprays that make you feel as if you're being splashed in the face with freezing cold water.
Avene has the purest form of water, which is bottled at the source to maintain its integrity. This is incredible for those with sensitive skin, hydrating and soothing in the gentlest way possible. I use it before I moisturize to get that extra layer of hydration in. And instead of over loading on product, I will sometimes spray again after moisturizing.
But my love for Avene is at its height when I'm traveling. The plane is disastrous for skin. I hydrate with a heavy cream, but can't continue to apply throughout the flight for fear of clogging my pores so I use this gentle mist whenever I think of it. And this is when the shock of cold comes into play. Most mists make me so uncomfortably cold that I cringe before spraying, yet this is pure bliss. I keep the regular size at home and travel with the smaller size
($9). Avene thermal spring water on drugstore.com
for $18.