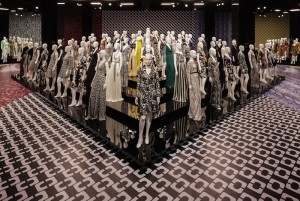 DVF's wrap dress just turned 40! Vogue takes a look at its celebratory exhibition.
There will never be another Kate Moss, but WWD reports that her half sister just signed with a modeling agency. I guess beauty runs in the family!
Cara Delevingne gets in touch with her sweet wide for Mulberry. See the Spring 2014 shots on WWW.
Why is it so hard for women to be both likable and powerful bosses? The Cut breaks down the bias.
Alex Wang revisits the '90s for his new ad campaign. Preview the looks on Fashionista.
Mark your calendars – Lindsay Lohan's reality show just got an air date. Get the details on SHEfinds.
Peruse the stars' pre-Golden Globes Instagrams on Elle.
The Fanning girls are all grown up! Look back at how their style has changed over the years in W Magazine.
Photo Credit: DVF