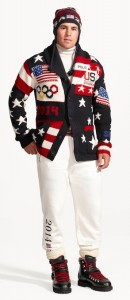 Ralph Lauren's U.S. Olympics outfits are proving to be quite polarizing. But at least they were made in America! See all the major pieces in the NYTimes.
According to the Cut, Anne Hathaway and Rachel Zoe have parted ways.
Kim Kardashian cut her Dior dress into a crop top and skirt. People rebelled. I'm not saying she should become a fashion designer tomorrow, but shouldn't she be allowed to do what she wants with her clothes? Get the details on Elle.
Fashionista reports that Jennifer Lawrence might have just inked a deal for another three years at Dior.
Kate Moss' spooky, new Alexander McQueen campaign (voodoo dolls included) will debut this afternoon. Learn more on WWD.
Guess, it's campaign day on Web Snob! Miu Miu has another crop of starlets repping Spring 2014. Find out who made the cut on WWW.
Okay, nail art was one thing, but cuticle tattoos? Check them out on SHEfinds and let us know – Snob or Slob?
Photo Credit: Ralph Lauren