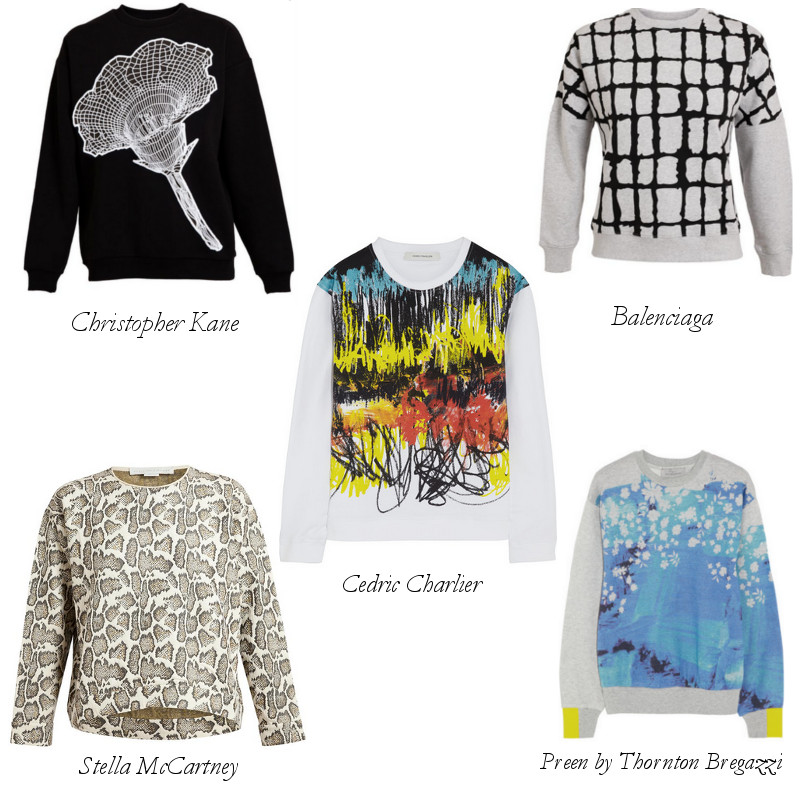 Rejoice! It's the era of the sweatshirt, and I'm all about comfort couture so this is a trend I'm jumping on. First the Birkenstock and now sweats. Schlepping has never been so chic! Seriously, when are pajamas going to be acceptable to wear out? Oh yeah, that already happened. But let's not go overboard here – I'm not suggesting you wear a sweatshirt with pajama bottoms and walk out in Birkenstocks (even if they are the nice Céline ones). Wear it unexpectedly over an amazing full skirt, or if you want to keep it casual, a bright, colorful jean with your best pumps.
Christopher Kane Floral Swiss Lace Sweatshirt:
This is definitely not the sweatshirt to wear for warmth, but for compliments? Most definitely! Just make sure you wear a top underneath…At Browns for $1,239.
Balenciaga Grid Overlay Cotton Sweatshirt:
Balenciaga gives the basic gray sweatshirt a graphic makeover. Take advantage of the muted palette and go wild with vibrant accessories. At Browns for $468.
Cédric Charlier Printed Stretch-Cotton Sweatshirt:
The Belgian designer's Resort '14 collection was inspired by the photos of artist Jackie Nickerson. On NET-A-PORTER for $490.
Stella McCartney Python Knit Cotton Sweatshirt:
For a designer who shies away from using animal skin, she always finds the most creative ways to keep the elements involved. At Browns for $673.
Preen by Thornton Bregazzi Splash Printed Cotton Sweatshirt:
While Preen may be known for its gorgeous prints, those neon-yellow cuffs just about steal the show! On NET-A-PORTER for $575.