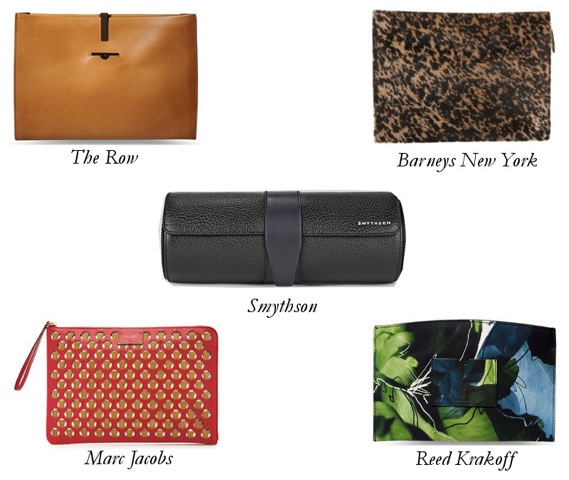 Bags are the only accessories that can truly multitask (other than shoes, which make for pretty handy bug exterminators when the occasion arises). The oversize pouch is the "it" clutch if there was ever such a thing, which is exciting because that allows you to justify investing in a luxe laptop case (finally!). Convertible bags have so many uses – to hold documents, cosmetics, electronic devices, and cords…all of the knickknacks we all have in our lives! That's what I call true multitasking.
The Row Medium Leather Bag:
If you don't like any of the tech case options out there, then just make one of your bags into a laptop carrier! On thecorner.com for $2,400.
Barneys New York Ponyhair Tablet Zip Clutch:
This may have been designed to carry an iPad, but who's to say it can't double as a toiletry pouch when needed? At Barneys New York for $590.
Smythson Gresham Collection Travel Watch Roll: A watch roll may seem like a very specific bag to have, but I use this more often than you would think. Store your watches and bracelets for travel, then remove the interior roll and it becomes a cool, cylindrical clutch that fits perfectly in your hand. At Smythson for $575.
Marc Jacobs Perforated Leather and Suede Laptop Case:
These cutouts are so cute that the bag doesn't even look like a laptop case. See what I mean about interchangeable functionality? Tech cases can be clutches and clutches can be tech cases! On Moda Operandi for $795.
Reed Krakoff Clutch:
Document holder, mini tablet carrier, passport and travel ticket pouch…oh, and just a plain old clutch! Though with Reed's tropical print, it's hardly plain. On thecorner.com for $390.