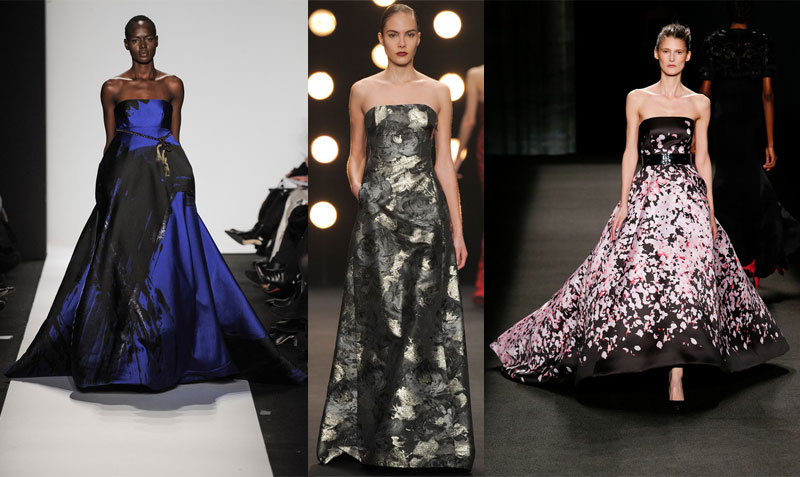 The lovely prints that have surfaced for the Fall 2014 season are the standouts of New York Fashion Week for me, from the already-dramatic gowns of Monique Lhuillier, Naeem Khan, and Dennis Basso enlivened with inspired prints to the playful dresses by Tracy Reese, Alice + Olivia, and Carolina Herrera. It was pleasing to see. We need more vibrant prints come fall; we saw a lot of color amidst the typical autumnal tones, as well. Designers are clearly feeling the energy, and it's infectious.
Monique Lhuillier took her lovely aesthetic in an edgier direction, indulging in ornate baroque embroideries and mesh overlays, but it is the true print that's the real standout. Her unfettered explosion of pink flower petals against a black strapless ball gown conjured the image of falling blossoms in the night, so beautiful it made me want to cry.
Inspired by showgirls of other eras, Naeem Khan broke away from his expert beading and embroidery work for many looks, showcasing wildcat prints, in-your-face florals, and a painterly metallic splatter, which made for one truly striking gunmetal gown. Dennis Basso got in touch with his artistic side, also serving up broad, bold brushstrokes on gowns of deep blue and berry red. The wide-sweeping gowns offered ample canvases for a full effect, and the result is bold, abstract, and a little wild.
Then there were the dresses with print, from daytime to cocktail and beyond. Tracy Reese drew inspiration from the forest, showing screen prints of woodsy landscapes that feel as wearable as they do transportive. As did Alice + Olivia, although Stacey Bendet took the concept in a slightly psychedelic direction. Inspired by fairy tales, her Victorian-meets-1970s-inspired enchantresses wore a plethora of dresses in velvety brocades, baroque patterns, and darkly colorful allover embroideries. A bright sweeping skirt in a kaleidoscopic pattern of primary colors, topped with a scarlet deep-V top is a winner.
Carolina Herrera's lively prints have become a signature of hers in recent years, but it's her brights that are a great break from the restrained earth tones that made up a hefty portion of the collection. With whimsy on her mind, Carolina blended rich solid reds and cobalts with abstracted geometric prints. Modern patterns combined with retro silhouettes make for the ultimate in polished ladylike-cool.