Jeremy Scott: I could not believe my eyes when I walked backstage at Jeremy Scott before the show and saw that they were working on a natural makeup look…the clothes must be crazy I thought (and um…they are…lingerie mixed with sportswear was the theme). I absolutely loved the hair look created however. We've all seen the wet hair look about a million times at this point, but Eugene Souleiman, working with Wella products, managed to elevate it with texture using a rack comb. More surprisingly still he achieved the whole look using only a conditioning treatment and mousse meaning he didn't destroy the models hair with mounds of gel.
Marc by Marc Jacobs: Such an exciting season for Marc by Marc Jacobs! This is the season Jacobs isn't himself at the helm of the brand, but rather he's given up creative reigns to Katie Hillier and Luella Bartley. To go along with their Japanese sportswear-inspired collection, the NYFW beauty look featured a quirky duo of braids. Not a look I personally like, but it worked well to complement the collection.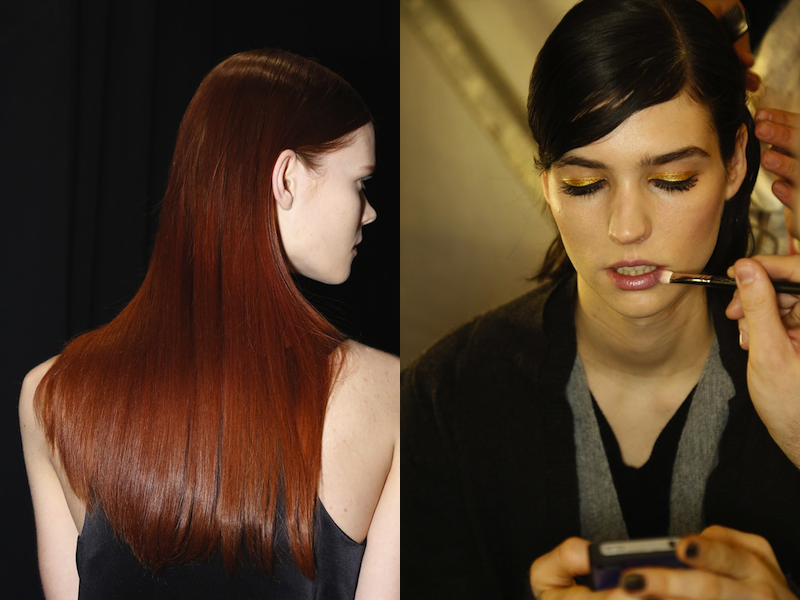 Narciso Rodriguez: Fittingly the hair look was sponsored by CHI because it was pencil straight (aside from the girls with mid-length hair who has a very, very slight bend at their hairs' ends). What I found most interesting at this show however is that in speaking with Deborah Lippmann I learned that all of the models were getting extensive cuticle treatments. Most of these girls go to three or four shows a day and their nails are a mess (their manis are super quick not at all like what you experience at a salon), because the look here was so clean, neat, and sophisticated they really wanted to create a perfect nail. One of the key products used was a new nail product called The Cure, which launches in April and is meant to hydrate cuticles.
Badgley Mischka: Side parted hair with side swept bangs is officially the biggest hair trend of the season.
Images: WWD