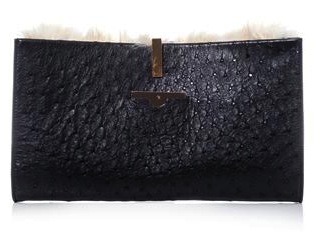 I love The Row, but I'm sorry – this clutch is ridiculous. While it's not hard to embrace the bohemian tassel-accented hobos and fringe-trimmed clutches of their current Spring '14 collection, this time, they've taken their embellishments too far.
I'm all for a piece that makes a statement – just not when the statement is muddled and leaves you saying, "Huh?" This ostrich-skin bag is lined in fluffy alpaca fur, which is scrumptious and soft, but on the inside? A whole bunch of problems immediately come to mind: the dirt that will undoubtedly accumulate, the pointlessness, the fact that the fur takes up all the room…so where are you going to put your stuff? And with fur this explosive, there's also the possibility that many will think you're toting a small animal in your pricy exotic clutch.
I'm all about unique details, but at the end of the day, a bag has to carry your things. Instead of filling the entire interior, it would have been cute if the fur just peeked out at the top. The effect would be the same and the clutch would be more functional. But alas, this is just a classic example of too much of a good thing. The Row ostrich and alpaca-fur wrap clutch on MATCHESFASHION.COM for $3,800.