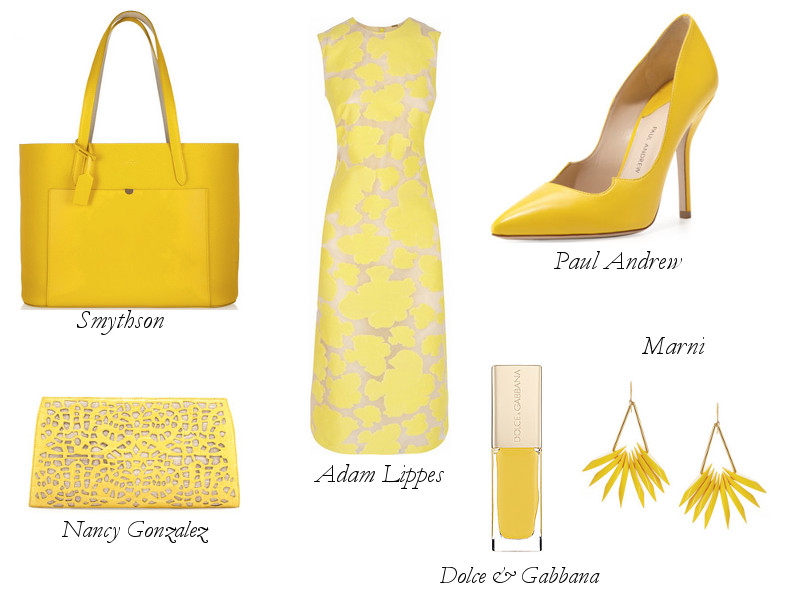 I'm wrapped up in fall thanks to NYFW, but let's not jump the gun too soon. Now is the time to enjoy all of those soft, springtime hues, and this year my favorite is yellow! Sometimes sallow, sometimes mellow, but here it's vibrant and full of life. Just make sure you approach with caution. An all-yellow outfit will wash you out (not to mention make you look like Big Bird). Stick two pieces at most, starting with a shoe.
There are so many citrusy sweet options this season from Jimmy Choo elaphe
(on NET-A-PORTER for $795) to Lanvin
(at Bergdorf Goodman for $895) to Manolo Blahnik's classic BB
(at Bergdorf Goodman for $595) to Giuseppe Zanotti (on shoescribe.com for $550) to neon Valentino
(at Bergdorf Goodman for $675). But my pick for spring? Paul Andrew's pointed toe pump
(at Bergdorf Goodman for $695)! The peaked-vamp separates it from the rest of the daffodil-colored crowd. See which other sweet treats I've picked…
Smythson Panama Textured-Leather Tote:
I'm all about the minimalist tote these days. Break out this ray of sunshine out whenever you feel like you're getting too gloomy with neutrals. On NET-A-PORTER for $995.
Adam Lippes Devoré Cotton and Silk-Blend Jacquard Dress:
This is the perfect office-to-party dress. Top it with a blazer for work, then switch that out for a statement necklace, bangles, and strappy sandals for drinks. On NET-A-PORTER for $1,250.
Nancy Gonzalez Straw Raffia Caiman Clutch:
On nights out, this clutch will keep the sun shining, even when the one in the sky went down long ago. The mix of raffia and croc cutouts will make you feel like you're on vacation no matter where you are! At Bergdorf Goodman for $1,925.
Dolce & Gabbana Lemon Yellow Nail Lacquer:
I can't do yellow nails, but when I see girls with the right complexions for it, the look is magical. At Sephora for $24.
Marni Gold-Tone Resin Earrings:
As an accent, there's nothing more refreshing than springtime yellow, so keep it fun when choosing lemon-colored jewels. On NET-A-PORTER for $310.