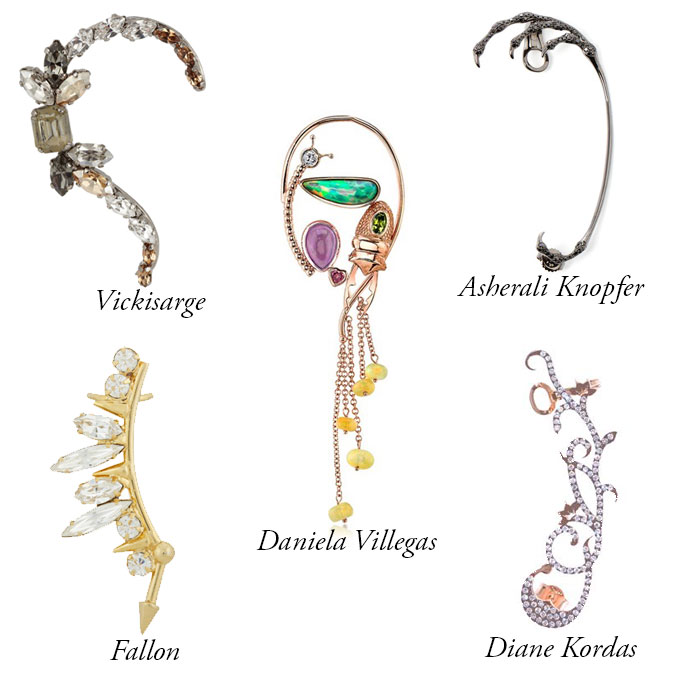 As someone who can't wear earrings (even platinum studs irritate me), I'm completely on board for the ear cuff trend. Sure, you could say it's my only option, but really, there's no compromise involved. If anything, the cool factor goes way up when a piece encompasses the entire ear, rather than just the lobe. Whether or not you've got pierced ears, this is a look worth trying out, and these are just the jewels you want to find yourself cuffed to…
VICKISARGE Speakeasy Palladium-Plated Swarovski Crystal Ear Cuff:
Vicki Sarge, one of the founding members of Eric Beamon (now Erickson Beamon), started her own line just last year, and if this champagne crystal cuff is any indication, she's going to have a lot to toast to in the future. On NET-A-PORTER for $385.
Asherali Knopfer Bird Claw Black Gold and Diamond Ear Cuff:
This one is for the ladies with piercings. The bird claw attaches as a cuff at the top of the ear and through the lobe at the bottom. At Browns for $5,456.
Daniela Villegas Fairy Ear Cuff:
Ear cuffs are having a moment, so dropping $16K on one probably doesn't seem rational. The truth, though, is that this piece is so unique (one-of-a-kind, as a matter of fact!) that it will be just as spectacular in 10 years as it is now. On Luisa via Roma for $16,199.
Fallon Microspike & Crystal Ear Cuff:
Fallon is always at the head of the class when it comes to trendy jewels with a dash of edge, and at the lowest price, it's guilt-free. At Barneys New York for $225.
Diane Kordas Diamond & Oxidised Rose-Gold Ear Cuff:
This is another pierced ear option. When you're spending this much money on a cuff, I guess it can be nice to know that the piece is securely on! At MATCHESFASHION.COM for $4,772.