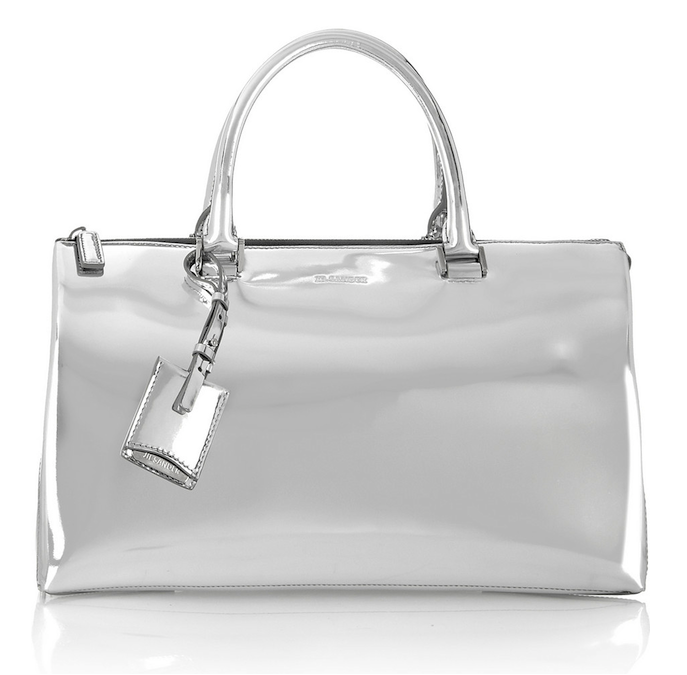 Look who's back! Mirrored-leather, high-shine and unapologetic, has returned to the scene, and I definitely need to get in on the glossy action, especially when it's done this right. Reflective silver can easily go the way of a disco inferno – be wary of construction when it comes to this fickle leather; one wrong move and you've gotten something cheap and tacky that should be left on the retro dance floor. Or it can addictive enough to have you saying, "mirror, mirror," all day long.
You can always count on the meticulous Jil Sander to introduce an element of perfection. Their take most certainly belongs in the elite latter category. A jolt of silver like this is not something you want to mess with too much. A simple shape, like this sporty, duffel-inspired tote style, and low-impact details, like a detachable shoulder strap and a single tag for punctuation, are all it takes to bring on the wow factor in spades. Shine on and on all season with this mirrored winner. On NET-A-PORTER
for $1,950.
Pair with: Out of the gym and worthy of the runway: contrast gleaming texture against Valentino's couture-worthy sneakers of yellow lace, olive suede, and a jolt of pink. On My Theresa
for $595.